Gmail tweak lets users add events straight to Google Calendar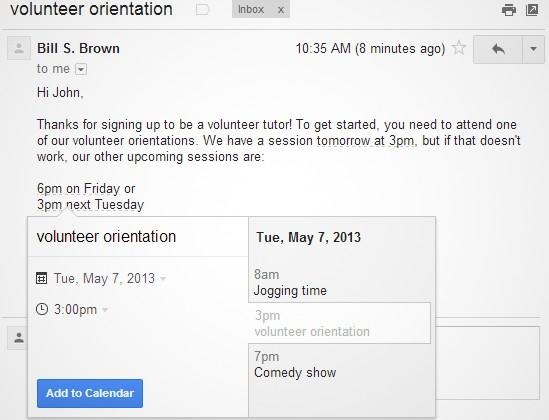 Google has been increasingly integrating its services with one another more and more over the past year or so, but it seems that there's always more integrating to do. The search giant has announced a new tweak in Gmail that lets users add events to their Google Calendar if Gmail detects a date or time in the email.
Any dates and times mentioned in emails will now be lightly underlined. Clicking on a date or time will pop up a box where you can schedule that meeting or coffee date and add it to your Google Calendar right from Gmail. It's a simple feature, but knowing how many meetings are scheduled through Gmail, it could come in extreme handy.
The feature is only coming for US users at the moment, and it's expected to roll out over the next week, so if you don't see it pop up today, it may not get to you until later. As for those in other countries, Google says the feature will arrive for other languages sometime in the future, but no solid timeline was given, sadly.
This brings Gmail and Google Calendar even closer together, but frankly they need to be fully integrated with one another if Google wants to attract the minds of more business folks out there. Currently, many of the business-centric email clients like Outlook support email/calendar integration, but we think Google will eventually make this happen sooner or later.