Gmail Offline and mobile web app get refreshed UI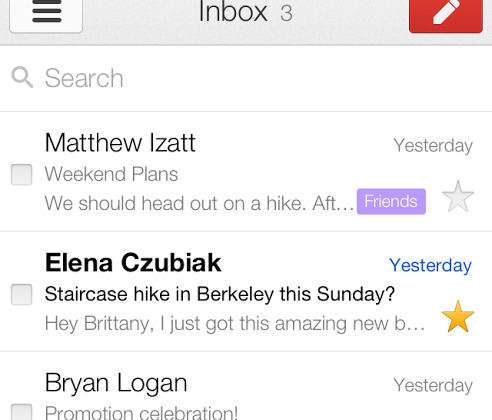 Google released a new version of Gmail on iOS back in December, bringing with it a new redesign that gave the app a more modern feel. Other features like improved search and integration with Google Calendar were also a big hit. However, the company never bothered to offer the same features in the Gmail mobile web app or in offline mode, until now.
As a part of "#MobileMonday," Google launched the redesign to the mobile web app and Gmail Offline to make it look similar to the Gmail iOS app. By navigating to Gmail.com in your favorite mobile web browser, you should see the new look, along with some added features that dedicated app users have been enjoying for a while. Google says the new web app version works on Android, iOS, Blackberry, and Kindle Fire devices.
While the dedicated Gmail app has a more streamlined UI, many users may actually prefer the web app over the dedicated app, especially since you can tap between other Google services, like Calendar, Google+, and of course the search engine itself. It also doesn't take up space on your device, and you can easily create a shortcut that won't take away precious storage space.
As for Gmail Offline, it's still in beta mode, but it's available for free in the Chrome Web Store. Essentially, it lets you manage your email while offline, including the ability to read, respond to, search, and archive email messages. The app will save all of your actions and will complete them once you gain access to the internet again.