Gmail gets 10GB bump plus Google Drive bonuses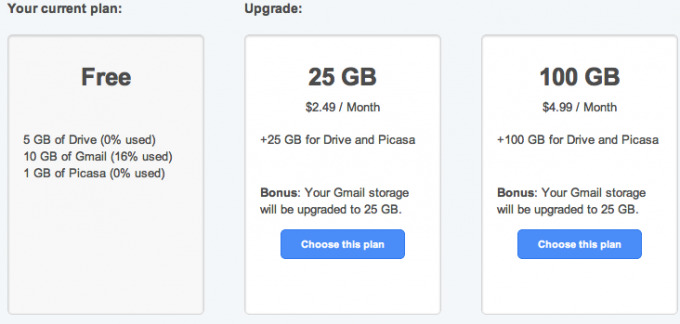 Google has boosted storage for Gmail users, upgrading free email accounts to 10GB of storage at no extra charge as well as throwing in more space for paid Google Drive users. The free email service had previously been offering around 7.7GB of service to regular users; now, with Google's Dropbox rival on the scene, that's been increased automatically.
If you want even more Gmail storage, it may be worth considering boosting your Google Drive account. Those who opt for the 25GB package – priced at $2.49 per month – automatically get an upgrade to 25GB of Gmail capacity too. The same amount is included with the 100GB Google Drive option, priced at $4.99 per month.
Those with paid Google Apps accounts seem to still have the 25GB of Gmail capacity as before, with no sign of a free boost. If you attempt to upgrade to one of the paid Google Drive plans, there's no sign of any change to Gmail storage.
Officially announced today after years of speculation, Google Drive is already providing to be a head-turner with its competitive pricing. Dropbox, for instance, charges $9.99 per month for 50GB of cloud storage, where the same amount gets you 200GB with Google Drive.