Gmail "categories" update hits Android and web with one-click activation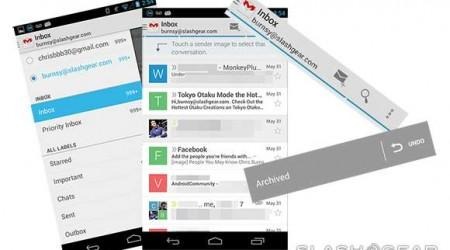 This week the folks responsible for creating the Gmail environment for email on devices ranging from desktop all-in-ones down to the smallest smartphone have begun unrolling their previously announced "Categories" update. This version of Gmail allows users to employ a rather simple system for categorizing emails, most of this activated and sorted automatically where, in the past, all was based only on keywords and email addresses.
The Android version of this application will be appearing on the Google Play store today for some users, and rolling out to the rest soon for others. If you feel that you need the UI right this minute, you can hit up Android Community for an APK link – easy as pie. From there you'll see what we're seeing above and below.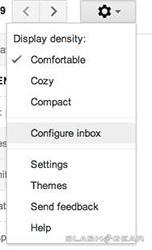 Users will be able to activate this user interface on their desktop machines in web browsers in the upper right-hand corner of the Gmail homepage. Clicking the Gear icon will bring you into a list that has "configure inbox" in it – click it and see!
This update user interface does not make the Gmail experience any more difficult than it has been in the past, and is entirely optional. You'll not need to separate emails into new categories like these if you're not all about it, and in Android it's only about making things just a bit more smooth.
The update should appear immediately after the "configure inbox" button is tapped – the Android user interface update may need a shut down and re-open cycling to happen before any changes can be seen.

Several built-in categories will appear in both your web browser (desktop) and mobile app Gmail environments. You can choose to use these or modify at will. Let us know which sections you'll be pushing your correspondance into!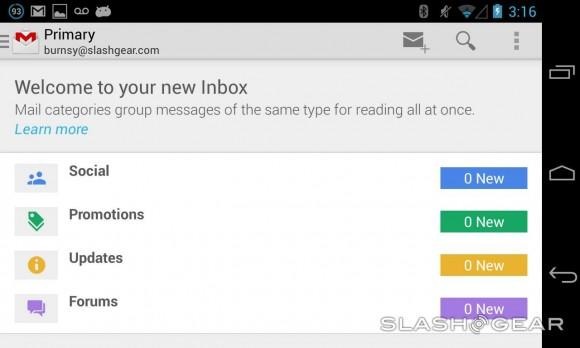 Android's version has features such as one-tap emptying of the trash can and pull-down refresh – otherwise known as swipe down to refresh. This version of Gmail for Android goes by the name 4.5-694836, if you'd like to know, and it'll be made official in the Google Play store sooner than later.