Gmail 5.0 Android app to support Yahoo, Outlook, IMAP accounts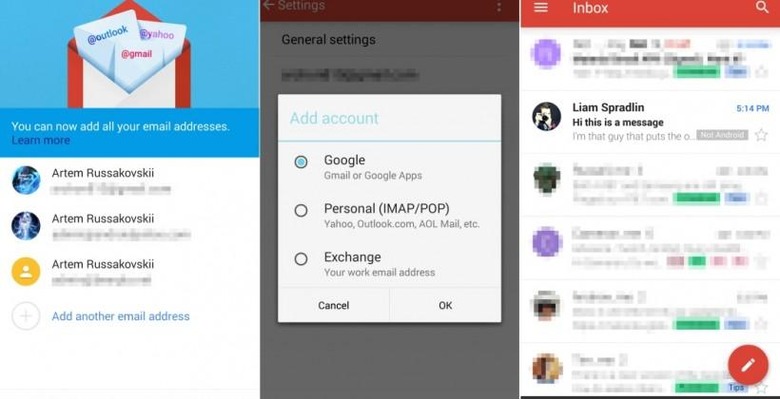 While currently only available as an APK, version 5 of the Gmail app for Android is expected to be hitting the Google Play Store anytime now. There are a number of apparent changes, some visual and others that offer new functionality for the app, such as the ability to get email from non-Gmail accounts, including Yahoo and Outlook.
We'll cover the ability to add multiple email accounts, since that's what you'll see first when you launch app, literally, as the 5.0 update will ask which kind of email addresses you want to use. The Gmail app will now support any IMAP or Exchange email accounts, including Yahoo and Outlook, and there's no need to have those accounts forwarding mail to your Gmail address or anything like that, the Gmail app basically functions like an independent client.
Visually, Gmail has been given a fresh makeover with Google's new Material Design, meaning you will see much more color (i.e. red) in the interface than before. This also means the app will fit in perfectly on Android Lollipop. The interface makes it easier and quicker now to switch between email accounts, and messages are threaded in a way that borrows from the Google Inbox beta that is all the rage right now.
Gmail version 5 is far from the reinvention of the email wheel that Google Inbox is, but then again, it doesn't need to be. Whether you download the APK (available at Android Police) or wait and get the update from the Google Play Store, you'll find the Gmail update is a clean, welcomed refresh to Android's best email client, and one that could potentially save you time in accepting other account types.
VIA Engadget
SOURCE Gmail