GM studies driver behavior in self-driving vehicles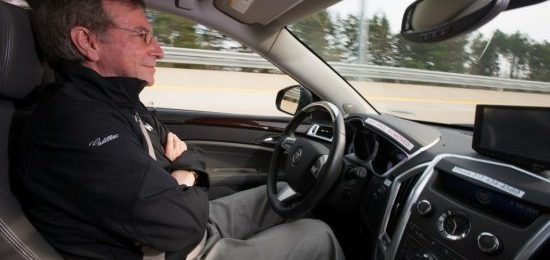 General Motors has announced that it has teamed with research partners to try to determine how non-driving activities influence driver behavior in self-steering, semi-autonomous vehicles. General Motors unveiled technology previously that will be available on future vehicles allowing the vehicle to handle all steering, braking, and throttle inputs for the driver in certain situations. The technology is expected to be available by the middle of the decade on production cars.
The GM study is examining the demands placed on the driver's visual attention compared to manual steering and automated steering, both with full range of adaptive cruise control engaged. Full range adaptive cruise control is a cruise control setting that will control throttle inputs in traffic maintaining a proper distance from another vehicle without driver input. The study was conducted using a driving simulator located at the Indiana University and Purdue University in Indianapolis.
The study was also conducted in part at a GM test track in Michigan. The GM study determined that when drivers are engaged in non-driving tasks, they split attention between the roadway and secondary tasks. The drivers in this instance make relatively frequent but brief off-road glances. The study found that advanced safety features such as Forward Collision Alert increases the drivers focus on the road by 126% when automated steering is in operation. Some of these features will be available this year on a 2013 Cadillac XTS and ATS sedans. This will include automated steering, but the Driver Assist Package will have full range adaptive cruise control and automatic emergency braking to help reduce human error.