GM recalls 640,000 pickup trucks over carpet fire risk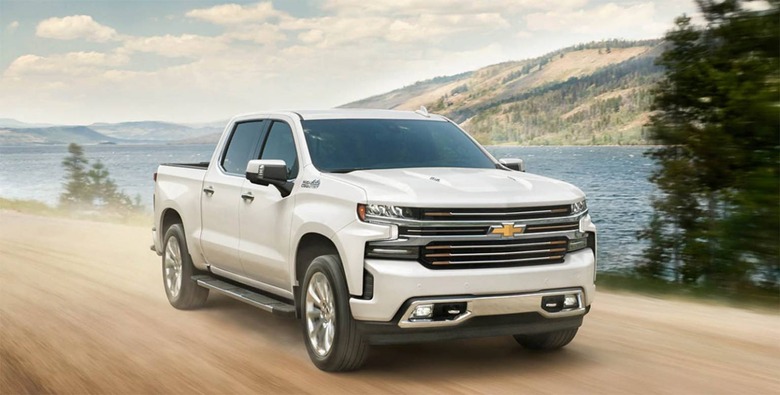 General Motors has recalled approximately 640,000 pickup trucks primarily located in North America due to a fire risk. The recalled vehicles include 2019 and 2020 model year GMC Sierra 1500 and Chevrolet Silverado 1500 trucks, as well as 2020 model year Silverado 2500 and 3500 trucks, and the Sierra 2500 / 3500 heavy-duty models. As with other vehicle recalls, eligible owners will get the potential defect repaired for free.
News of the recall first surfaced in an advisory dated November 14 from the National Highway Traffic Safety Administration (NHTSA). The recalled vehicles all feature carpeted rather than vinyl flooring, according to the recall notice; the issue revolves around the potential for that carpet to catch on fire due to the technology used for the front seat belts in these trucks.
Recalled models feature front seat belt pretensioners that deploy as a result of certain types of crashes. When this happens, GM explains that exhaust produced by the activated pretensioner could be diverted through an opening in the system's bracket. The exhaust may then ignite the fibers in the truck's carpeting located near the interior B-pillar, resulting in a visible fire.
Carpet that is on fire may, of course, put people in the car at greater risk of injury in the event of a crash. The recall notice explains that the opening through which exhaust is expelled was intended to be used as a locator hole during the vehicle's assembly process but was ultimately never used. The hole isn't actually part of the pretensioner system's design and isn't needed for it to work.
The potential risk was discovered following the report of a fire that happened in a truck this past summer. The automaker's review of the case ultimately led to an official product investigation launched on September 3. Fast-forward to the newly announced recall and GM explains that dealers will install a component in affected trucks that closes the openings in the pretensioner bracket. This will keep the exhaust gases away from the carpet, removing the fire risk. Owners of recalled vehicles will be notified about the recall directly.