GM freezes 60k SUV sales over misleading economy labels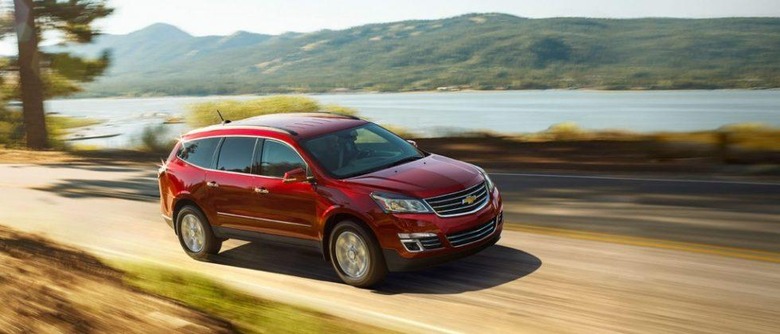 General Motors has slammed the brakes on sales of several of its large SUVs, after discovering economy figures had been misrepresented. Sales of vehicles wearing Chevrolet, GMC, and Buick nameplates have been put on hold – affecting almost 60,000 cars – after it was realized that the EPA numbers were higher than they ought to be.
The temporary halt affects the 2016 Chevrolet Traverse, 2016 GMC Acadia, and 2016 Buick Enclave. GM had notified dealers on Wednesday that they could not deliver a combined total of 59,823 vehicles until replacement paperwork was prepared.
That paperwork – known as the Monroney sticker after Almer Stillwell "Mike" Monroney, the Oklahoma senator who sponsored the Automobile Information Disclosure Act of 1958 – is expected to arrive from Saturday, GM has informed dealers, Automotive News reports.
The replacement labels will be printed and sent with overnight delivery.
GM blamed an "inadvertent error" for the overstated efficiency, and has notified the EPA of the mistake. In a statement, it said it would contact the thousands of owners who had bought one of the impacted vehicles before the issue was spotted.
"The error caused the EPA estimated fuel economy to be listed on the window label as 1-2 mpg (miles per gallon) higher than it should have been," GM said in a statement today. "GM is stopping sale of the affected models until a corrected label is printed and affixed. GM will contact owners of the affected models to address this situation."

Although the exact cause of the mistake has not been explained, a spokesperson said that, despite there being no changes to engine or transmission between the 2015 and 2016 model years, the miles per gallon numbers did change. That the incorrect scores were still being used was only spotted when the company's engineers were preparing the figures for the 2017 model year SUVs.
However, GM was quick to point out, "this label error has no effect on the safety and operation of the vehicles."
Nonetheless it's unclear at this point whether GM will find itself slapped with fines or other penalties for potentially misleading buyers as to the sort of economy they could expect from the three SUVs.
According to the Clean Air Act, the EPA is entitled to level significant fines to those companies found misreporting mpg numbers.
"Violators are subject to civil penalties up to $37,500 per noncompliant vehicle or engine," the Act reads, "$3,750 per tampering event or sale of defeat device, and $37,500 per day for reporting and recordkeeping violations."
Fuel efficiency is a hot topic at present, given high-profile cheating by Volkswagen over its diesel engines, and several other manufacturers facing increased scrutiny about their own claims.
VIA Automotive News