Glass-bottomed bridge in China is 600-feet in the air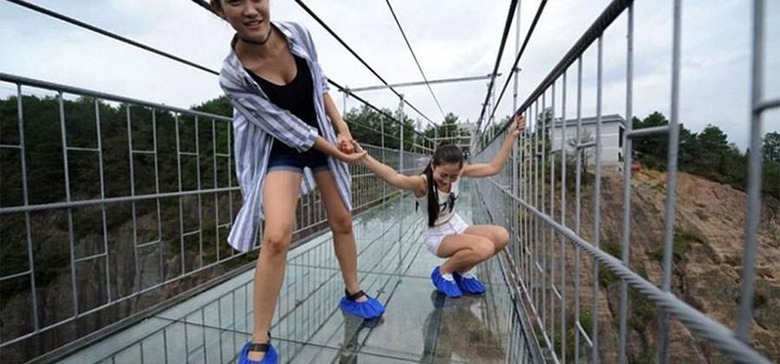 A new tourist attraction opened in Shiniuzhai Geopark in Hunan central China this week. It's said to be the longest glass bottom bridge in the world at 984 feet long and it is 590 feet over the canyon beneath it. The bridge was previously a wooden bottom bridge that was updated with glass to terrify visitors.
Before visitors can walk across the glass bridge, they are given special booties that cover their shoes. The images of the opening show people clinging to the handrails and being terrified in general. The builders say that the glass panes used for the bridge is safe.
Each glass pane is said to be about 25 times stronger than window glass. The bridge wobbles slightly as people walk across it adding to the fear the glass bottom evokes. Chinese media says that it is the first bridge to use a glass bottom in the world.
Some early visitors to the bridge were said to be so terrified by the gaping chasm below the bridge that they could hardly move. Before going with a full glass bottom, part of the bridge had a glass pane installed that is said to have attracted many tourists to the area.
SOURCE: Dailymail