Give your bike a real headlight & turn signals with these LEDs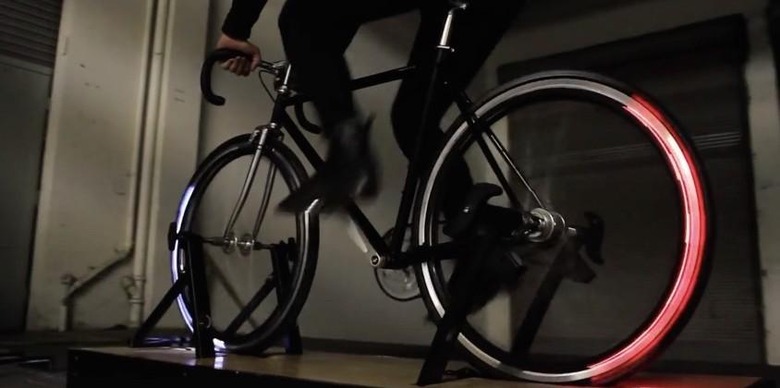 Products that attach LED lights to bicycle wheels for improved visibility are nothing new, but the latest version from Revolights drastically improves on previous designs, not only with turn signals and better battery usage, but integration with a mobile app. Revolights has just launched an Indiegogo campaign for their newest set, called Eclipse and Eclipse+, which still work by creating two arcs of light as the LEDs pass through specific positions during wheel rotations.
Eclipse works with a ring of LED lights that snap onto each side of a bike's front and rear wheels. While the lights are spaced out all around the ring, an accelerometer is used to determine speed and position, having them light up to create consistent arcs. The light is dispersed in every direction, allowing the front to act as a headlight, while the rear will flash red when braking is detected.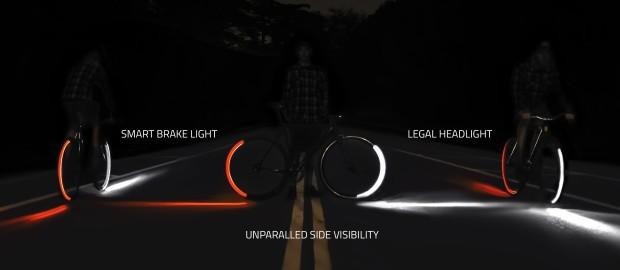 The improvements come in the form of a battery that snaps directly into the light ring, removing the hanging wires of Revolights' previous models. This is all included in the standard version of Eclipse, but it's the Eclipse+ that brings smartphone integration. With a Bluetooth connection, Eclipse+ communicates with an app that not only lets users track their rides, but also shows the battery level in real-time.
The most impressive feature, however, is how the app offers controls for turn signals — where the full ring of rear lights flashes on one side to indicate the turning direction. This is done via a control button on the bike's handlebars, or with a smartwatch extension that detects arm gestures. The app also offers the option of turning the lights on and off remotely, as well as having them automatically turn on when it starts getting dark.
SOURCE Revolights/Indiegogo