Giroptic World's First 360 degrees digital camera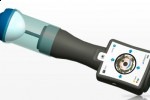 The Giroptic's One-shot 360° Panoramic Digital Camera shaped like a Stielhandgranate, looks unfitted and oddly designed for a digital camera; but its innovative approach allowed an easy-handling high quality 360 degrees panoramic digital image taken with just one single click.
An instant 360 degrees panoramic image achieved with one single click, without the need of expensive Digital SLR, fisheyes lens and stitching apps sounds like an architect or a real estate agent's best friend to promote a virtual asset in bird's eye view.
The Camera sports an 8MP image sensor, 1.5-inch LCD screen and has a built-in memory storage to capture 160 of still images at its full charged. It packs an advanced camera features such as : The CCD type image sensor has light sensitivity up to ISO 400; white balance can be set at fully auto; exposure control is available via aperture priority; image can be taken via a single shot or self-timer fashion, and HDR support is available in auto-bracketing mode.
Priced at $999, the Giroptic's One-shot 360° Panoramic Digital Camera comes equipped with Windows and Macs apps to allow photographed images convert to publishable virtual tours, ready to be uploaded and hosted at Giroptic servers. Optional plans without sponsored ads are also available at extra monthly fees.