GIPHY Cam arrives on Android with GIF recording, fun editing tools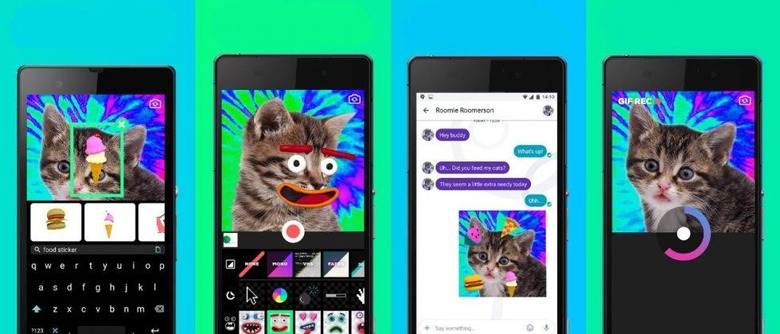 A short while after making the beta available, GIPHY Inc. has officially launched GIPHY Cam in the Google Play Store, making it available to all Android users. GIPHY Cam is just about the most fun and simple way to make creative GIFs with your phone, offering an interface not unlike what you find in Vine, but with its own flavors. After holding the record button to film a short looping GIF, users can spice it up with stickers, amusing animations, and more.
GIPHY Cam is very simple to use and exceedingly fun. Just fire it up and record a short GIF using your phone's (or tablet's, I suppose) camera, then either share it on your preferred favorite platform. Before sharing it, though, you can edit it with different designs, things like fun faces that are added with the tap of the finger and stickers that are animated with various things.
The editing features are numerous — you can, for example, add animated text with various fonts for a written message as in Snapchat. You can also apply video effects to give your GIF a certain look; these include "VHS," faded, 3D, toast, film, snap, pixel, and dose. Stickers include some pixelated retro computing staples like a cursor, loading spiral, and pointer finger.
You can apply multiple items, then share the GIF. Supported platforms include Instagram, Twitter, Facebook Messenger, as well as text, saving the GIF to the device, or using your device's "share video" menu to choose a particular app installed on the phone.
SOURCE: Google Play Store