Giger DIY $10k walking robot [Video]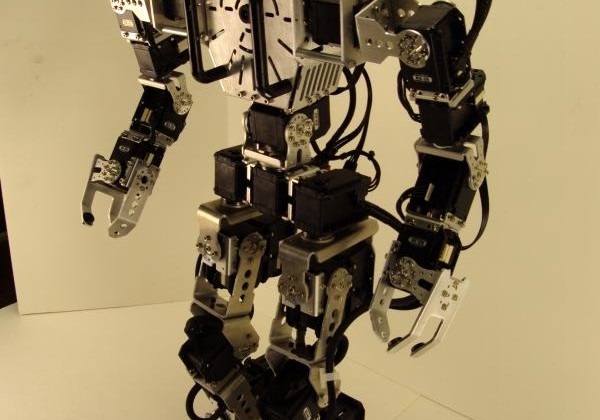 Over at Let's Make Robots! Tyberius is showing off Giger, his two-foot tall DIY humanoid 'bot.  A roughly 100 hour project so far, Giger runs embedded Linux and has both an integrated camera and WiFi, and apparently cost around $10,000 to build.
Now that might sound like an awful lot – probably because it is an awful lot – but you can blame the pro-quality servos.  Tyberius used Dynamixels RX-64 and RX-28 units, which come in at $300 and $200 each, respectively; however unlike cheap servos they put out a whopping 1,000 ounces per inch of torque.
We're not sure what we like most about Giger: his classic Cylon-style eye, mean looking pincers, or how easily he segues from a butch fighting stance to a reasonably camp wave.  Tyberius' next job is tightening up the dynamic balancing and getting the walking gait more natural; right now Giger looks a little drunk.
Video demo after the cut
[via MAKE]