Gigantic rubber duck shows up in Hong Kong's Victoria Harbor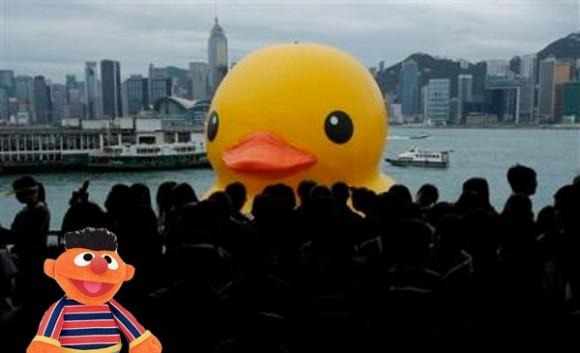 Residents and tourists in Hong Kong this week were greeted with a very strange sight floating in Hong Kong's Victoria Harbor. A gigantic rubber duck is currently floating in the harbor. Yes, you read that right a gigantic six-story tall rubber duck is currently invading Hong Kong harbor.
Had the dock surfaced off the coast of Japan, I think we would be on the lookout for Godzilla. The massive 650-inch tall rubber duck was created by a Dutch artist named Florentijn Hofman. It's unclear exactly why the artist created this gigantic duck.
What is clear is that it's strange and incredibly popular with kids. Hong Kong is the latest destination for the gigantic duck, it had previously been displayed in Osaka, Sydney, São Paulo, Auckland, and Amsterdam. Rather than actually being made from rubber, as you would expect of a rubber duck, it's actually a gigantic inflatable.
According to the artist the massive duck had to be deflated due to high winds and big waves in the bay. The massive duck will be anchored in Victoria Harbor for display through June. This is the perfect opportunity for some pranksters to fill the bay with bubble soap.
[via Mercury News]