Gigantic LEGO Technic set is a Mercedes Unimog truck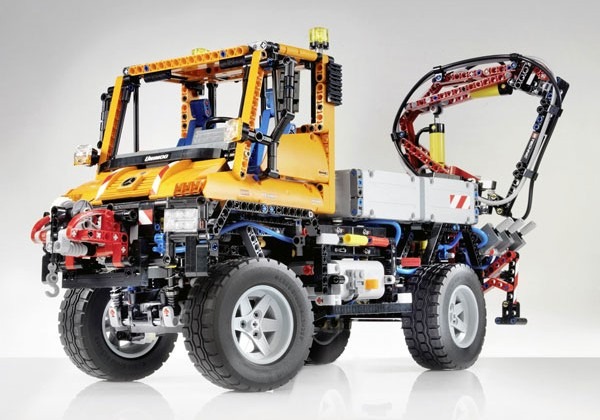 Geeks like LEGO, specifically the LEGO Technic sets that are so crazily detailed that you have to put the littlie LEGO pistons into the little LEGO engines of some models. The latest LEGO Technic set to be unveiled is a scale model of a truck that we rarely see in the States, but is apparently pretty common in Europe. The truck the kit is modeled after is the Mercedes Benz Unimog. That is a strange name, Unimog sounds like some sort of subterranean mythical creature that Hercules fought.
The Unimog kit is being produced by LEGO to celebrate the 60th anniversary of the truck and its kit has 2000 pieces and is the largest Technic set ever sold by LEGO. I would end up losing at least 500 of those parts during the build. The kit is a 1:12.5 scale, which considering the size of the real vehicle makes the Technica set gigantic as well. The features of the model are the same as the real vehicle.
The Unimog LEGO kit gets a winch on the front and a pneumatically operated crane on the rear than can move 360-degrees. A snowplow is optional as well. This is one of the kits that has pistons you have to install into the little LEGO motor. The kit will cost you about $250 when it lands in August. Go ahead and add this to your Christmas list now.
[via Jalopnik]