Gigantic hands-on with Xbox One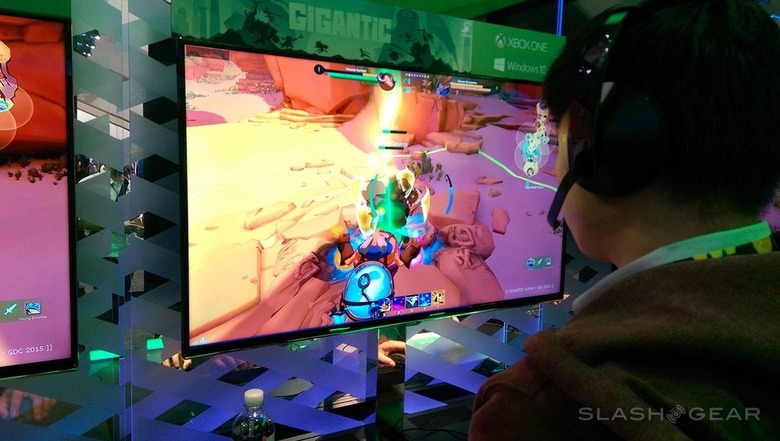 Earlier this week at GDC 2015, Microsoft's Head of Xbox Phil Spencer announced competitive action game Gigantic would be coming to Xbox One. This game was previously revealed to be coming to Windows 8 and Windows 10, and it'll be rolling with Xbox One at launch as well. We got the opportunity to go hands-on with the game this afternoon, in full team-based battle warrior form. This game will be cross-play and cross-advance, meaning basically everything will cross over, platform to platform, device to device.
This game has several unique characters – five unique personalities, each available for play this week. This game looks and feels phenomenal, even in this pre-release showing. The game is bright, quick, and very obviously prepared to be a very scale-friendly enterprise.
NOTE: 2-minute hands-on incoming – stay tuned!
This game is cross-platform-play, meaning you'll be able to battle players on PC when you're on Xbox One, and vice-versa. Battling int his way is an option you'll be able to turn on or off.
This variety of characters are made to hinge on to your natural tendencies – bash your way through enemies or tear them apart with magic. The development team at Seattle-based Motiga Games suggests that this will be a unique experience – 5 players against 5 players, with teams empowered by their skills in teamwork.
Coordinated attacks, a broad range of character styles, and a battle-based set of game mechanics. This game should do well entering the same arena as DOTA 2, TF2, and the like. We'll see more from this game "later this year" for Windows 10 and Xbox One.
Have a peek at our GDC 2015 tag portal for more and check our ever-evolving Gaming Hub for more gaming action than you can handle.