Gigabyte offers On/Off Charge drivers for charging iPad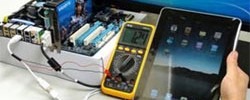 Some iPad owners are finding out that their PC USB port will charge the iPad when the iPad is turned off and not in use but won't change if turned on. The issue is reportedly because the power requirements for the iPad when it is running is more than some mainboards can support.
Gigabyte announced that it has a new driver for some of its popular AMD and Intel mainboards that will allow the iPad owner to charge the device when the iPad is on or off. The new driver is called the On/Off Charge driver update. It is on the gigabyte website now for download.
The new drive supports a ton of gigabyte mainboards including those for the Intel X58, P55, H55, and H57 chipsets. AMD 800 chipset mainboards are also supported by the update.