Gigabyte NVIDIA GeForce GT 220 and G210 retail cards announced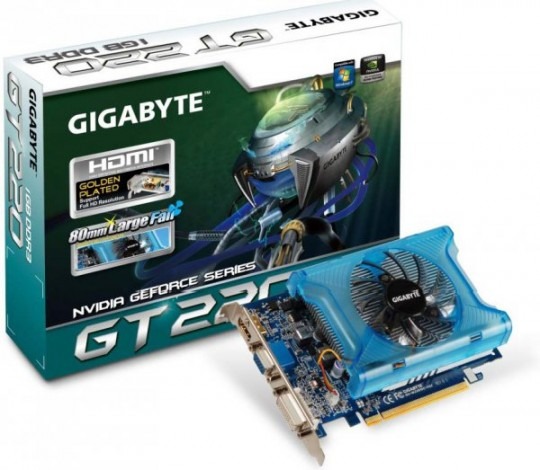 Been waiting for some of that sweet NVIDIA 40nm GPU action, but aren't keen on buying a new PC with an OEM card installed?  You'll be pleased to hear that the first retail versions of NVIDIA's GeForce GT 220 and G210 video cards have emerged, initially courtesy of Gigabyte, and both carrying prices well under the $100 mark.
The Gigabyte GeForce GT 220 (model number GV-N220OC-1GI) has 48 SPs, a core clock speed of 720MHz, shader clock speed of 1,566MHz, memory clock at 800MHz and a 128-bit memory bus paired with 1GB of DDR3 memory.  Meanwhile the Gigabyte GeForce G210 (model number GV-N210OC-512I) has 16 GPs, a 650MHz core clock, 1,547MHz shader clock, 400MHz memory clock and 512MB of memory with a 64-bit bus.
That means you're getting slightly higher core clock speeds than the OEM cards but slower memory speeds.  The GT 220-based card also gets a significantly larger heatsink (with 80mm fan) than the G210 card.  Both have HDMI outputs and quote low power requirements, and at $79.99 MRSP for the GT 220 and $44.99 for the G210 – each of which support DirectX 10.1 – we're betting they'll find plenty of buyers.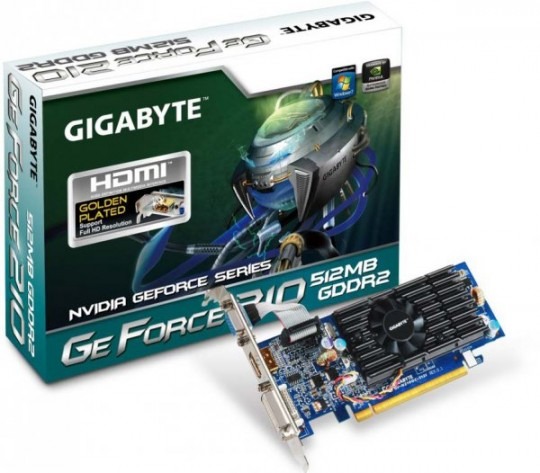 [via The Tech Report]