Gigabyte's M912X touchscreen convertible netbook certainly has the performance, the resolution and the upgrade potential, but it still wasn't the perfect mini-tablet.  Battery life was the key complaint, suffering from the CCFL backlight.  Thankfully Gigabyte also have an LED-backlit model, the M912M, which drops pixels (the M912M is 1024 x 600 versus 1280 x 768 on the M912X) but brings with it frugality.  UMPC Portal have been marking the differences between the two versions, and the M912M certainly comes out ahead for most users.
Check out the review video of the Gigabyte M912M after the cut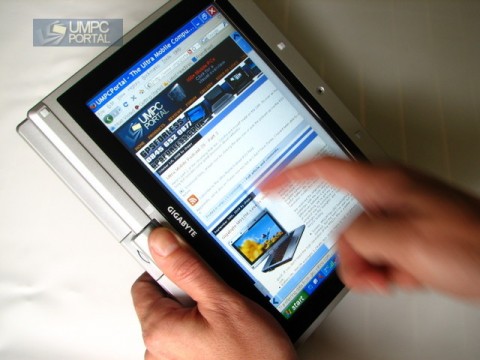 The M912M has a 1.6GHz Intel Atom processor, 1GB of RAM, a 160GB 5,400rpm hard-drive and WiFi; there's also Bluetooth, contrary to initial claims.  Performance-wise, it scores 26,500 in CrystalMark, with the speedy hard-drive being a particular joy.  The fan is a little louder than that in the M912X, but the benefit is a generally cooler machine; battery life is stretched out too, reaching 3hrs with wireless switched on, and there's an extended 6-cell battery on the way.  The one significant detraction is the fact that the Mini-PCI Express slot is locked down, which might make adding a 3G WWAN card tricky.
In all, though, unless resolution is a must the lower running temperatures, improved battery life and brighter, better contrast screen make the M912M the one to have.  If the real sign of a decent machine is how unwilling the reviewer is to send it back, then the M912M must rate highly: Steve is buying it himself.