Gigabyte M912 touchscreen ultraportable priced from $556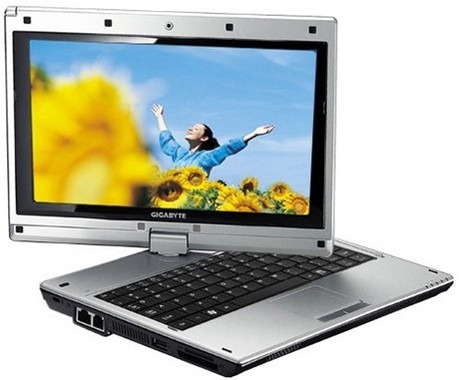 Pricing details for Gigabyte's M912 mini-convertible have emerged, courtesy of UMPC Fever's user forum.  From the start, OS details were confusing; now it appears that three versions of the touchscreen notebook will be available, the M912V running Vista and the M912X and M912M both running XP. 

All three models will use a 1.6GHz Intel Atom CPU and have an 8.9-inch display.  The M912V will apparently be priced at around $656 and come with 1GB of RAM, both WiFi and Bluetooth, and use a 1,280 x 768 panel.  The M912X, meanwhile, will be priced at $620 for the same specs, while the M912M loses both Bluetooth and pixels, thanks to a mere 1,024 x 600 panel, to hit a $556 price.
The M912 measures 235 x 180 x 28~42mm and tips the scales at 1.2kg; there's no optical drive, but there are three USB ports, audio, D-SUB video and an SD card slot.  Storage is courtesy of a 160GB hard-drive standard to each model.  Maximum battery life is quoted at 4hrs from the 4400mAh Li-ion pack.  Sadly we still don't have any availability details.
[via Engadget]