Gigabyte M912 touchscreen Diamondville UMPC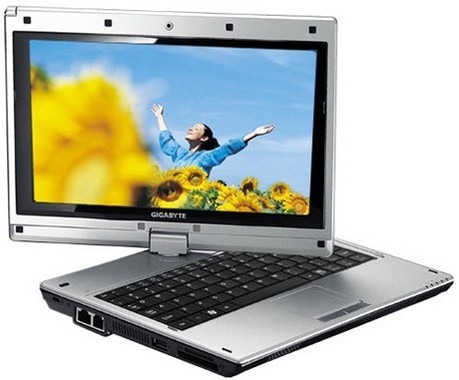 Gigabyte's UMPC, the M704, may not have exactly wowed reviewers, but the company is sending in touchscreen reinforcements in the shape of the M912.  While at first glance it might look like a full-sized convertible tablet, a glance at the spec list reveals that it actually has an 8.9-inch WXGA display, putting it firmly among the UMPC/budget ultraportables and a direct rival to Fujitsu-Siemens' P1610.  Under the hood is a 1.6GHz Intel CPU, and the fact that it uses the 945GSE chipset suggests this is based on Intel's Diamondville platform; Gigabyte are quoting "Windows XP compliance and support Linux" which doesn't exactly make clear which OS will be preloaded.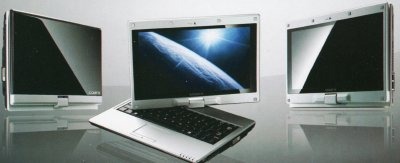 Other specs include a maximum of 1GB of RAM, a choice of 120, 160 or 250GB hard-drives, 1.3-megapixel webcam, WiFi b/g and Bluetooth 2.0.  The keyboard is likely to be compact, though no more than that of the P1610 or any of the 8.9-inch Eee models, and uses a proper trackpad rather than a pointer-nub.  Of course, you're really meant to do your navigating via the 1280 x 768 LED-backlit touchscreen, which can rotate fully and fold down onto the keyboard to turn the M912 into a slate. 
The M912 measures 235 x 180 x 28~42mm and tips the scales at 1.2kg; there's no optical drive, but there are three USB ports, audio, D-SUB video and an SD card slot.  Gigabyte have even squeezed in two tiny 1.5W speakers.  Maximum battery life is quoted at 4hrs from the 4400mAh Li-ion pack.
No word on availability, but according to Crave Taiwan it'll work out at around $660.  Expensive when compared to, say, the Eee, but a bargain if you're considering the Fujitsu machine.
[via Digg]