Gigabyte M528 MID gets pricing, availability details
Gigabyte have revealed pricing for their M528 MID, which we last saw back at CeBIT 2008.  The compact device has a 4.8-inch touchscreen, slide-out QWERTY keyboard, GPS, 3G HSDPA and dual cameras (VGA up front, 3-megapixel with autofocus round the back).  Storage is courtesy of a 4GB SSD, while the processor is an 800Mhz Silverthorne/Poulsbo (Menlow).  The Taiwanese end-user price is a recommended $750.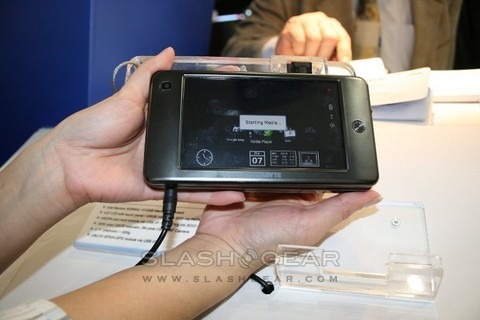 That's a fair chunk of cash for an ultraportable device.  It also lacks a data contract, leaving you free to drop in your SIM of choice and take advantage of whichever mobile broadband deal is currently top. 
Gigabyte expect the M528 to ship in late July in Taiwan.  The device is similar, though faster, to the Aigo MID, which comes in at an expected $770 to $1026.  Whether that makes the M528 a bargain or the Aigo over-priced, I'm not sure.