Gigabyte keyboards & mice bring the bland to CeBIT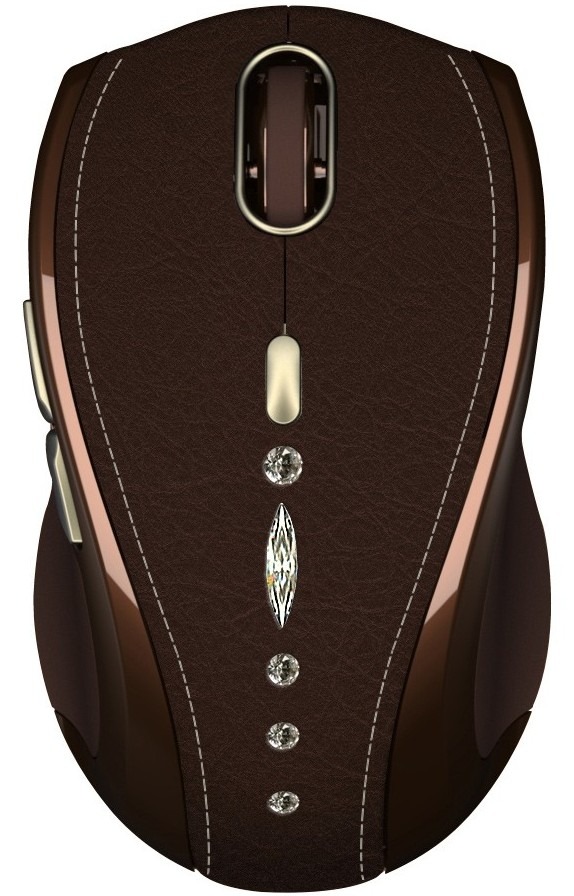 Gigabyte have released a range of new, not exactly attractive peripherals at CeBIT 2009 this week, including the bizarrely crystal-encrusted GM-M7800S wireless mouse seen here.  Obviously the one thing better than a 1,600dpi leather-clad mouse is one studded with a few Swarovski  crystals that you won't even see when using it.
Happily there's also the slightly more sensible GM-M8000 laser gaming mouse, with a 4,000dpi resolution sensor, five programmable buttons and a supplementary key to toggle between preset resolution levels.  It also has three profiles with macro settings for different mousers using Gigabyte's GHOST engine.
Finally there's a pair of QWERTY keyboards, the swollen-looking GK-K6800 which pushes its shortcut and media controls to the very edges so as to leave plenty of space for its ugly keys, and the GK-K7100 which borrows notebook styling.  No matter how much hyperbole from Gigabyte – "K7100 shows out sleek and simple fashion style. It is definitely not an ordinary keyboard, but a piece of high-technology art" – there's no disguising that these are pretty standard 'boards. 
No pricing or availability, but we're sure the bloated peripheral market will clear a space for Gigabyte when they mice and keyboards finally launch.
Press Release:
GIGABYTE Introduces 2009 All-new Peripheral Product Line at CeBIT

GIGABYTE, a leading manufacturer of motherboards and graphics cards, announces the availability of its all-new designs of Peripherals at CeBIT 2009, displaying products in hardcore Gaming, luxury minimalist style Keyboard, and Mouse. In response to the market's high demand for multimedia and gaming, GIGABYTE will roll out a prototype suite of Gaming series and showcase some marketable stuff that will be on display at the booth, including:

Ultimate Precision Laser Gaming Mouse: GIGABYTE GM-M8000 is a super powerful mouse designed especially for professional gaming users. With no doubt, it is the highest performance laser engine: with the most accurate precision, no tracking lag, and the highest resolution up to 4000dpi accompanying the unique scaling-designed switching button, which allows users freely adjust their favorite dpi in four levels. Moreover, It's the result of extensive studies on a lot of gaming forums by GIGABYTE's ergonomic engineering group. Revolutionary ergonomic design ensures improved comfort during intensive game play. Another powerful feature of this weapon is its extra gaming buttons: the five programmable buttons and GHOST engine software, gamers can present five different macros with 3 unique profiles for up to 15 different on-board macro settings of ultimate game-playing flexibility. Having it, expert gamers have the best short-cut to upgrade to the highest rank in any competition and easily win every game competition you face.

Elegant Vogue Wireless Mouse: GM-M7800S is another GIGABYTE commitment to bring fashion, style and exquisiteness to PC life. Gracefully combined with encrusted Swarovski crystal and quality leather, GM-M7800S comes in a stylish and precious design, offering the vogue a chance to collect a style mouse to match that gorgeous. In addition to the elegant design, the function of GM-M7800S is good without saying: advanced laser tracking, 1600 & 800 adjustable resolution, useful tilt wheel, and ultra portable nano receiver, allowing users to keep it plugged into laptops on the move. Moreover, with adapting the reliable 2.4GHz wireless technology, GM-M7800S provides up to 10 meters transmission distance range. It also features high-performance laser tracking, excellent responsiveness and precision.

GM-M7800S Features & Benefits:

l High class leather decorate with luxury Swarovski crystal

l Reliable 2.4G Wireless Laser mouse

l Invisible Nano receiver

l Extended battery life

l 800/ 1600 dpi adjustment

l Tilt wheel

The super stylish GK-K6800 features a luxury, trendy, yet comfortable and user friendly keyboard. The new glossy coating technology provides users a new enjoyment vision and use feeling. The unique design of multimedia function keys at the edges provides users a new experience to manipulate the keyboard. In addition, the shiny steel volume wheel allows users to adjust the volume accurately and easily. Not only the powerful functions of multimedia hot-keys and volume wheel, GK-K6800 is also known for its special ergonomic design of wrist support pad. Thanks for this wrist support pad, now people can enjoy their typing without worrying about the wrist fatigue.

GK-K6800 Features & Benefits:

*Multimedia hot-keys and volume wheel

*Internet hot-keys

*Luxury glossy surface design

*Wrist support pad to prevent arm fatigue

The thinnest GK-K7100 is a minimalist style keyboard which adopts the latest technology of scissors structure key switch to features the ultra slim and comfortable notebook-like keystroke. With the slim and glossy surface design, K7100 shows out sleek and simple fashion style. It is definitely not an ordinary keyboard, but a piece of high-technology art.

Besides the sleek outlook, K7100 is also a practical computer input device.

The multimedia function mode switch allows users to get into the multimedia world by simply pressing 2 keys in one second. While multimedia mode on, you can easily control what you want to use with media or Internet hotkeys.

GK-K7100 Features & Benefits:

*Scissors Structure key switch makes notebook-like key traveling.

*Ultra slim type, minimum thin just as 9mm

*18 multiple multimedia hotkeys.

*Glossy surface design