Gigabyte GTX 1080 Mini ITX says size doesn't matter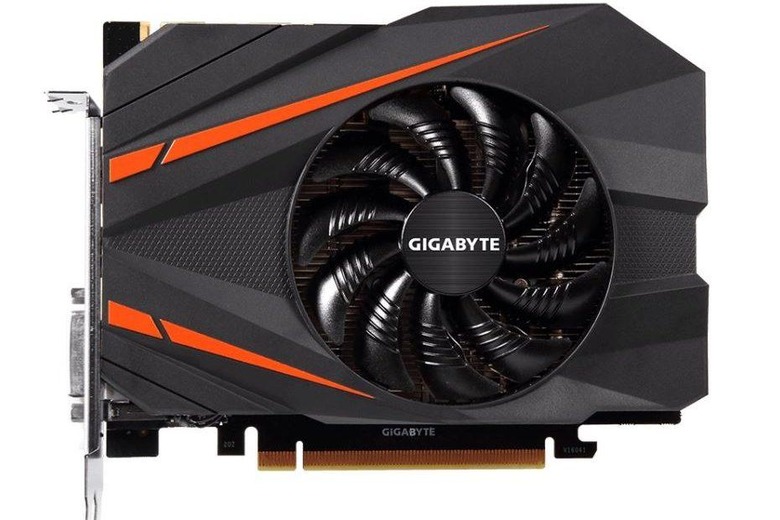 As far as graphics cards are concerned, the NVIDIA GeForce GTX 1080 is one of the most powerful on the market. A top-of-the-line card in every respect, GPUs like the GTX 1080 usually end up taking up a lot of space in your case. Gigabyte is hoping to solve that issue by introducing its new GeForce GTX 1080 Mini ITX today.
The GTX 1080 Mini ITX promises all the power of a standard-sized GTX 1080, just in a smaller package. This card is significantly smaller than NVIDIA's own reference models too, coming in at a mere 16.9 CM long. By comparison, NVIDIA's reference is 26.7 CM long, so this card from Gigabyte should certainly save some space if you're using a small or medium-sized case.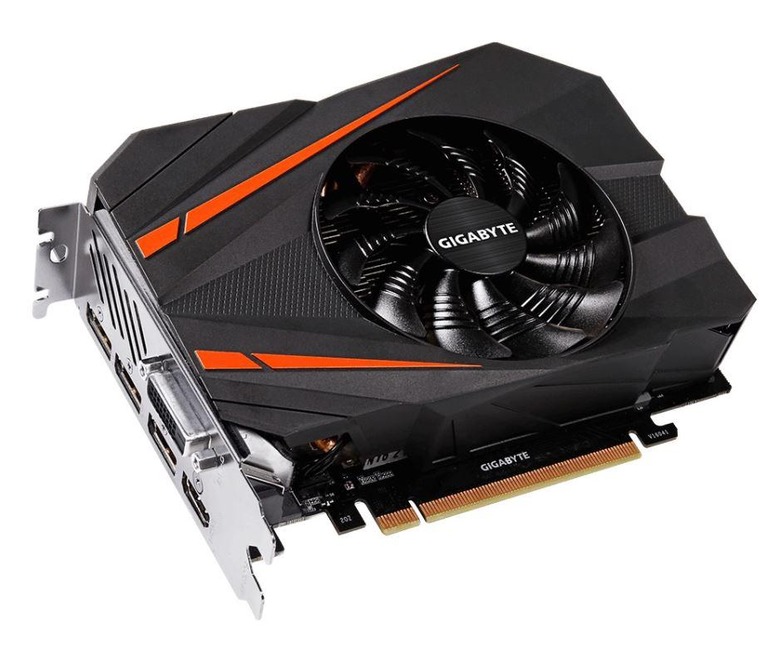 Obviously, dropping the overall size so drastically means that cutbacks need to happen somewhere else as well. In the Mini ITX, that cutback comes in the number of cooling fans – while a fair number of GTX 1080 cards you'll see have two or even three cooling fans, the Mini ITX only has one. Here's the full list of specifications from Gigabyte's website:
Graphics Processing: GeForce GTX 1080

Core Clock Boost: 1771 MHz/ Base: 1632 MHz in OC Mode

Boost: 1733 MHz/ Base: 1607 MHz in Gaming Mode (Reference Card Boost: 1733 MHz / Base: 1607 MHz)

Memory Clock: 10010 MHz

Memory Size: 8 GB

Memory Type: GDDR5X

Memory Bus: 256 bit

Card Bus: PCI-E 3.0 x 16

Output: Dual-link DVI-D*1 / HDMI *1 / DisplayPort*3

Digital max resolution: 7680x4320

Multi-view: 4

Card size: H=37 L=169 W=131 mm

PCB Form: ATX

DirectX 12

OpenGL 4.5

Recommended: PSU 500W

Power Connectors: 8 pin*1
While it may be a little worrying to see such a powerful GPU outfitted with just a single fan, Gigabyte says that it's up to the task of keeping the card cool, especially when paired with the card's aluminum heat sink. That heat sink features three copper composite pipes that carry heat away from the card and into the fin stack, where it's then dissipated by the fan. Gigabyte says that the fan it's developed for the GTX 1080 Mini ITX will offer a 23% increase in airflow compared to other fans, so it certainly sounds like cooling will be up to snuff.
It'll need to be, too, because not only is overheating a major worry in small builds like the ones this card will feature in, but Gigabyte has also seen fit to outfit this card with "one-click super overclocking." Overclocking, of course, leads to even more heat that needs to be dealt with, so it's good that there's such a big focus on fan improvement and cooling with this card. There's no word on pricing or availability just yet, but have a look at Gigabyte's website for more on the GTX 1080 Mini ITX.