Gigabyte BRIX PC Delivers Intel Haswell, 4K Video In Your Palm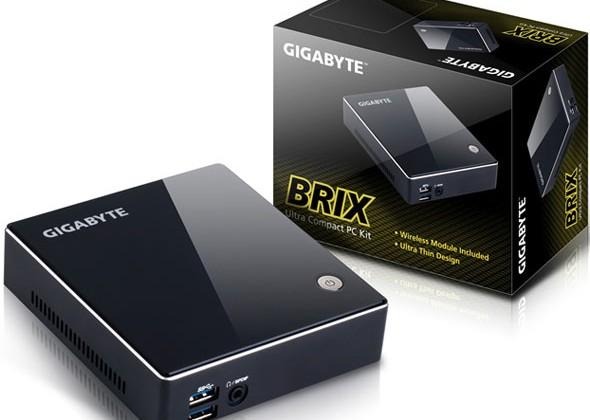 Epitomizing the cliche "small but terrible", Gigabyte's upgraded BRIC ultra compact PC offers quite a lot in terms of raw power while remaining locked up in a chassis no bigger than your hand. Gigabyte's BRIX line represents a growing trend of packing mid- to high-end components in ever decreasing device sizes.
While huge desktops and powerful laptops still have a stable foothold, there is no denying the fact that electronic components are getting smaller or that small components are getting more powerful. While this might sound common sense for smartphones and tablets, the progress is also benefiting somewhat conventional PCs that are being offered in very small sizes.
According to Gigabyte, their BRIX ultra compact design has been met with incredible success, inspiring them to push the limits and squeeze in as much power as they can without adding to the footprint. Their new BRIX models come in a variety of CPU options, starting from a dual-core Intel Celeron 2955U up to a fourth-generation dual-core Intel Core Haswell 4500U with clock speeds of 1.8 GHz, reaching up to 3 GHz on Turbo mode.
But the CPU isn't the only component worth noticing. The high-end BRIX configuration sports an Intel HD 4400 and HDMI output with 4K video support. For connectivity, it has four USB 3.0 ports, Bluetooth 4.0, and 802.11n WiFi. There are two SO-DIMM slots available, allowing users to plug in up to 16 GB of DDR3-1600 RAM.
While the BRIX will definitely not give desktops and laptops a run for their money, the ultra compact PCs will definitely find its uses, especially in nooks and crannies that regular computers cannot reach. Gigabyte has not released pricing details, but it probably wouldn't not stray too far from the $300 mark that previous BRIX generations had.
VIA: HotHardware