Gigabyte Booktop T1132N revealed: twisty-screen returns with Core i5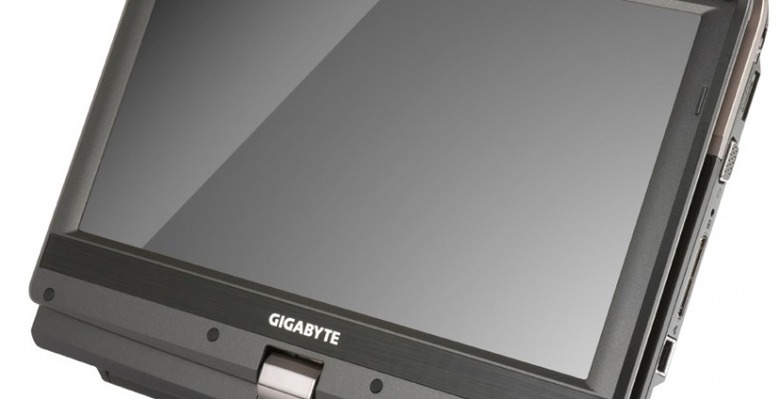 When its time to get weird, Gigabyte has you covered with a laptop that flips up, around, and sideways, providing what was back before the tablet era the original slate PC – and now it's time for the newest model, complete with a 1.6 GHz Intel Core i5 processor, the Booktop T1132N. This device has a touchscreen display, a display that can be pulled up to a laptop, twisted around backwards and over the keyboard to be used as a tablet, and pulled back in so the whole mess can be docked in an upright position to be used as a tower desktop PC.
This Gigabyte Booktop T1132N has an 11.6-inch 1366 x 768 pixel capacitive touch display with discreet graphics, and will just be lovely for when you switch over to Windows 8 and all of its touch-ready goodness. You'll be able to plug in up to 8GB of DDR3 memory, you've got HDMI, D-Sub, Ethernet, and audio ports, and a 2.5-inch hard drive bay. You've got one single USB 2.0 port and a set of four speakers, two of them bass woofers, and you've got the option of hooking this whole rig up with 3G connectivity. Of course you've also got the option of a 802.11b/g/n WiFi connection as well.
The dock station has a built-in DVD burner and you can plug the whole mother in to your own HD monitor at your own discretion. You've also got a few other ports on the desktop dock including HDMI. Play some gigantic games with your integrated Intel HD Graphics 3000 and NVIDIA® GeForce® GT520M 1GB GPU.
The price has not yet been revealed, but you can bet it won't just be a few hundred bucks. This look like something you'd be willing to use on a daily basis? Anyone have a need for a machine that acts as several different kinds of PC? What about loading Linux?
[via Gigabyte]