Gigabyte Aero 15X Review (Late 2017, GTX 1070)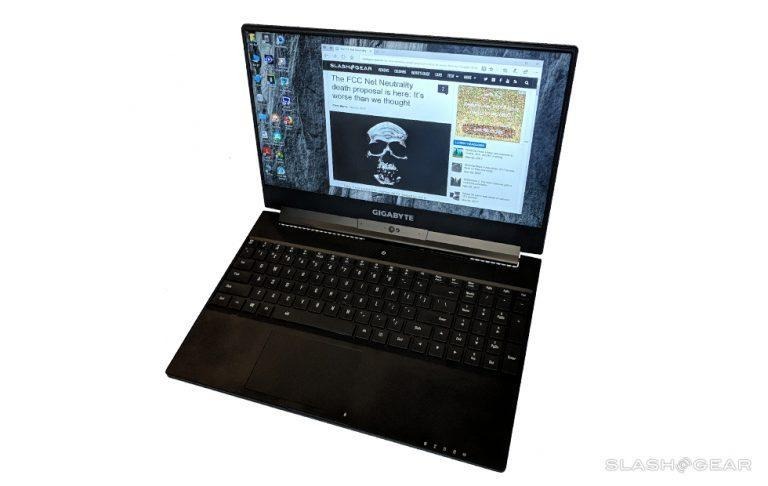 EDITORS' RATING: 7/10
Over the past few weeks we've been testing the Gigabyte Aero 15X gaming notebook. This is one of the newest in new gaming notebooks – as such, it is not part of the "massive performance means massive hardware" families of the past. This machine also boasts a few other features that make it unique – like long battery life, a highly decent display (with TINY bezels) and NVIDIA GeForce GTX 1070 Max-Q graphics inside.
Display
The 15-inch display* on this notebook fits within the chassis of a "close to 14-inch dimensions" chassis. That's what Gigabyte says, anyway. This display has a rather tiny 5mm display bezel, which for a nearly-not-there-screen lover is a real treat. If, on the other hand, you're a person who needs that black border around the screen in order to avoid a headache, this is not your notebook.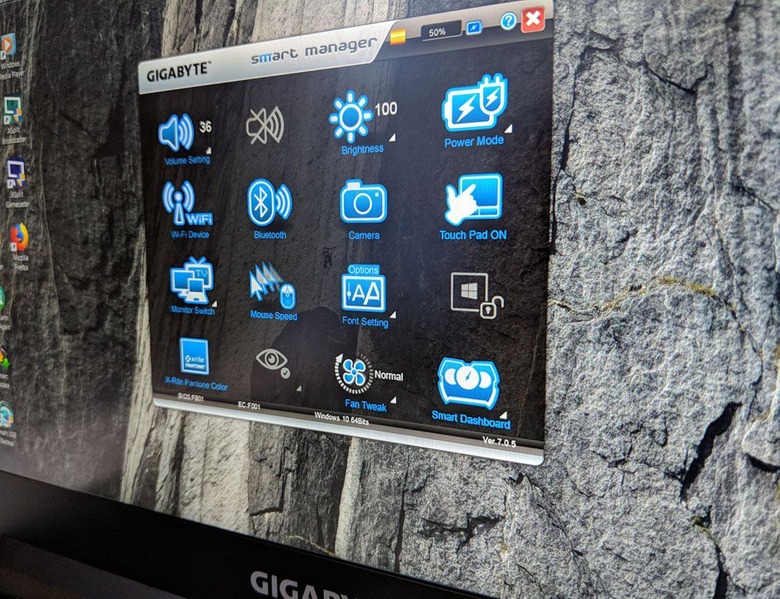 *The display is actually 15.6-inches diagonally, with FHD 1920 x 1080 pixels to its name – AAS, too. This display is X-Rite Pantone color calibrated – which means it's made to show colors reasonably similar to what they'll look like if you, for example, print a Photo from Photoshop. While this exact situation cannot be done with a light-based display (since light shines here rather than bouncing, as it does on a printed picture), the results are decent.
On that note – this display isn't as mind-blowing as, say, a modern high-end Samsung notebook. It's an LCD panel made to look accurate, not saturated. This is real life, not HDR. The display covers 106 percent of the sRGB color gamut – and it's quite good. Good, as in professionally accurate.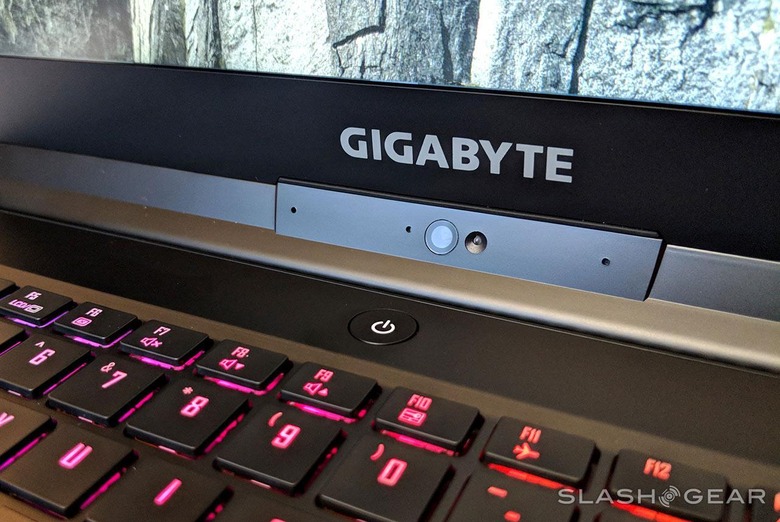 Above you'll see the one other odd result of cutting out nearly all the bezel area around the sides and top of the display. That's the webcam for this notebook, sitting below the display instead of above it. This might be a deal-breaker for you if you're a heavy-use webcam user – but for everyone else, it just takes a tiny bit of getting used to.
Keyboard and Touchpad
In this Gigabyte Aero 15X is the potential for greatness for both play and work. You'll find that by the end of this review, I've come to the conclusion that the keyboard and touchpad aren't really up to my expectations for a do-everything machine, but your opinion might differ. I suggest you have a peek at the real deal before you make a two-thousand-dollar purchase, but if you're unable, be ready to buy yourself a mouse for gaming, at least.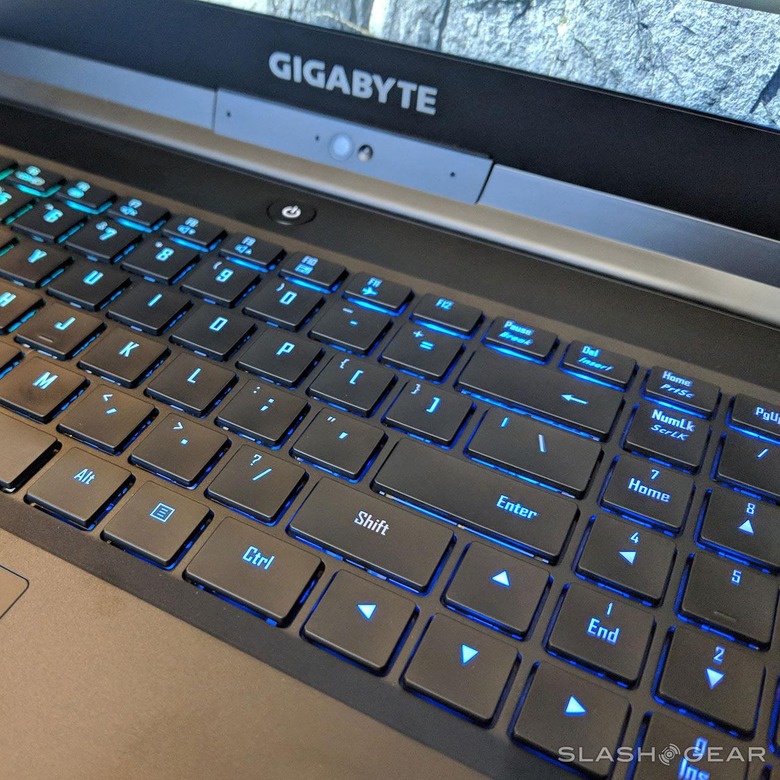 If you're the sort of person that needs to use three and four-finger gestures on your touchpad, you'll be out of luck. The touchpad is accurate, but it's not quite as versatile as a Surface machine or a MacBook. The keys on the keyboard are tough, but not impossibly difficult to grow used to.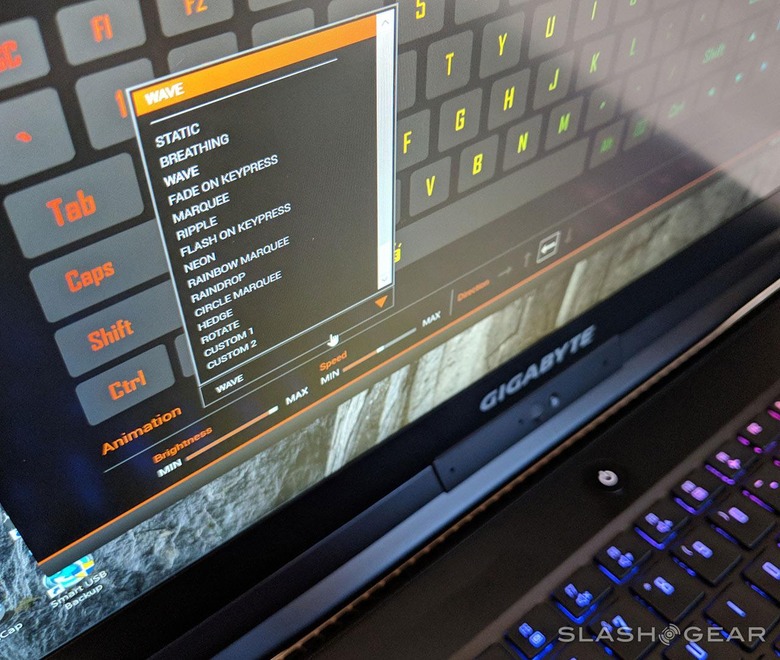 Each key is backlit, and the entire keyboard comes in rainbow colors. The keys themselves are a dark gray/black, but in these island-style keys are included per-key RGB backlit FUSION lighting action. It's not quite as all-in as a Razer machine with color control, but it's still pretty fancy.
Ports and Internals
The Gigabyte Aero 15X rolls with 7th Generation Intel Kabylake i7-7700HQ Processors and 8GB or 16GB DDR4 2400, 2 slots (Max 32GB) system memory. This machine has Mobile Intel HM175 Express Chipset Intel HD Graphics 630 and an NVIDIA GPU. That GPU is the NVIDIA GeForce GTX 1070 GDDR5 8GB with Max-Q Design. Below you'll find specifications for this GPU, as provided by NVIDIA.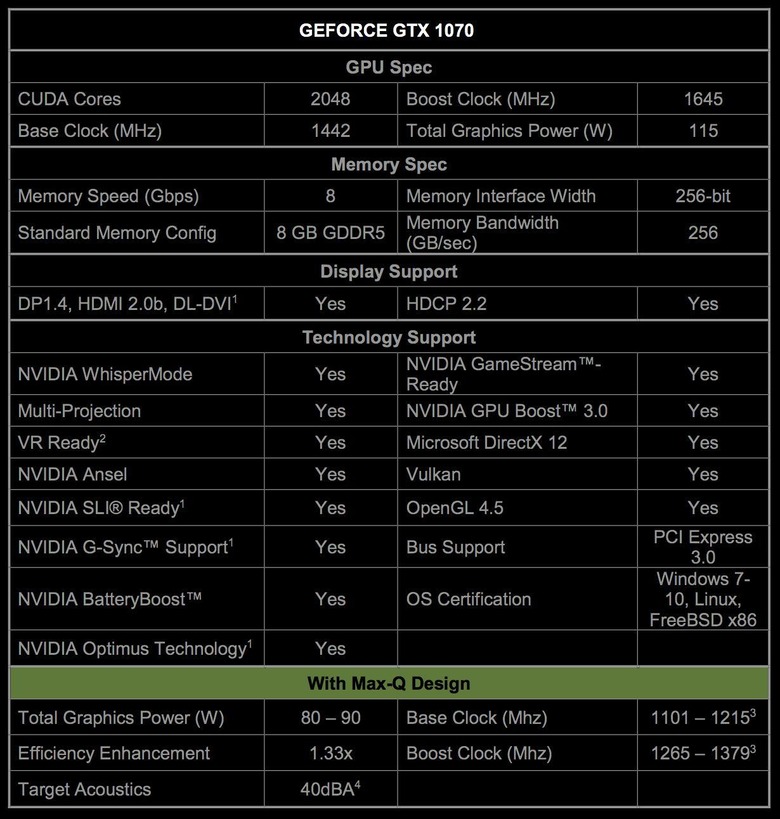 On the edges of this machine are the following jacks: Thunderbolt 3 (Type-C) x1, USB (3.0) x3, HDMI 2.0, mini-DP 1.3, RJ-45, Audio Jack Combo x1, SD Card Reader, and a single DC-in Jack for power. The DC-in jack is set on the right side of the unit, right near a single Kensington Lock.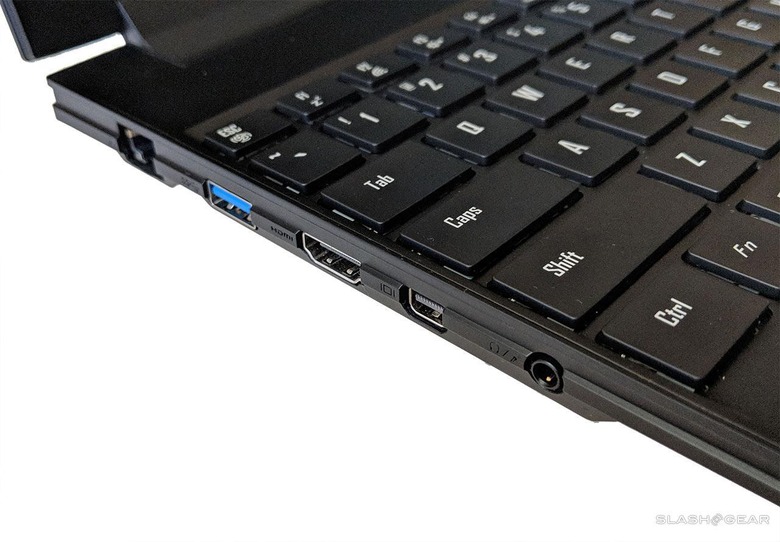 ABOVE: Left side. BELOW: Right side.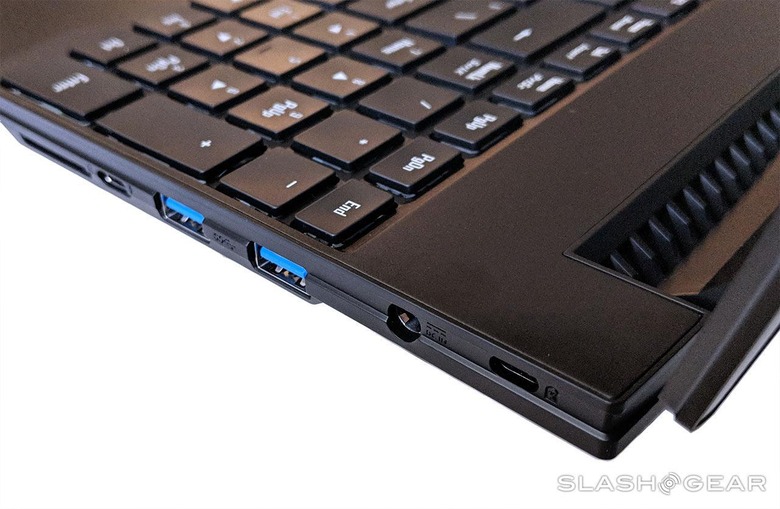 Audio on this machine is blasted forth by 2x 2-Watt Speakers with Dolby Digital Plus Home Theater technology certification. Connectivity is provided by Bluetooth 4.2 + LE, Intel 802.11ac Wireless, 2T2R, supporting MU-MIMO, and 10/100/1000Mbps Ethernet.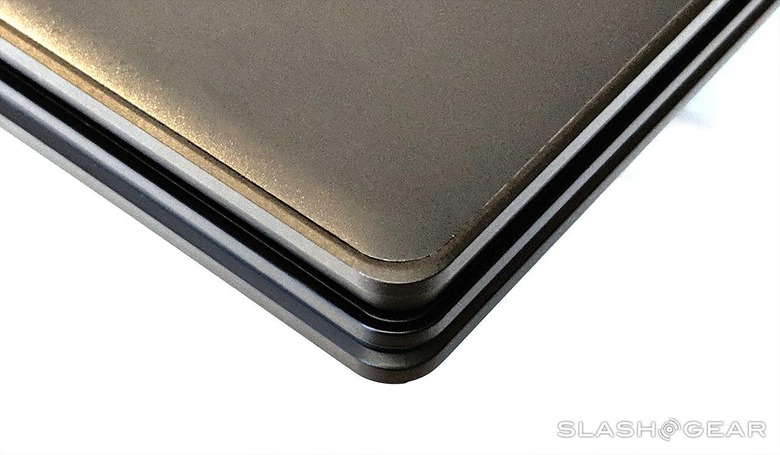 This notebook computer is 35.6 (W) x 25 (D) x 1.9 (H) cm, and weighs in at around 2.1 kg with its battery inside. That's approximately 4.6 pounds, or so. It's not a light notebook, but it's certainly sleek. The folks responsible for the industrial design of this machine have created a unique look and feel without copying the designs of any notebook that've come before – a real feat indeed.
Software
The version of Windows we have on this review unit is Windows 10 Home. It's not exactly a "clean" install of the software, bringing along with it apps like Smart Update, Smart USB Backup, and Gigabyte Smart Manager – each of which can be helpful for a new user. Smart Manager can be particularly helpful as it includes a Blue-light killer and toggles for special features.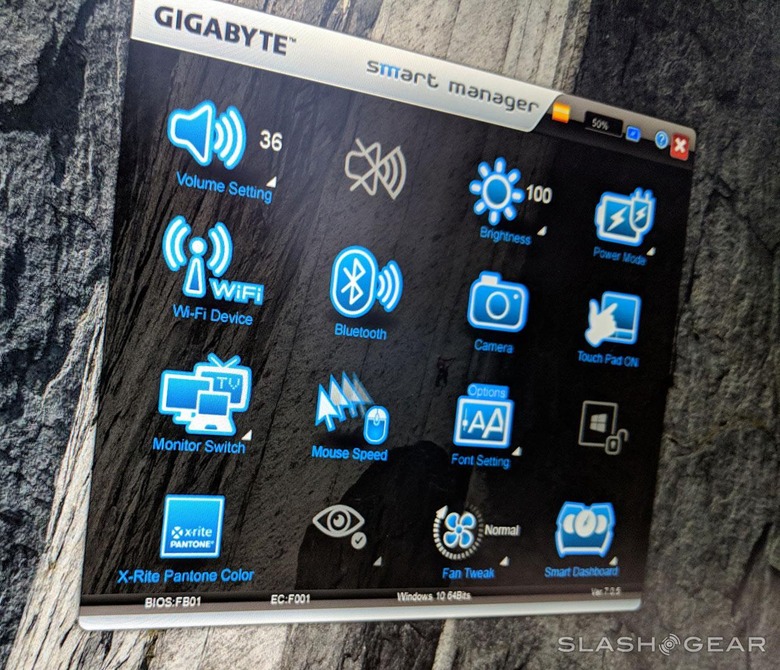 One of the most interesting toggles is for the X-Rite Pantone Color the display is packed with. Oddly, the unit we've been working with had the special feature turned off by default – flipping it ON provides the color-correct experience we've come to expect from this particular feature.
This build of Windows also includes CyberLink PowerDVD, XSplit Broadcaster, XSplit Gamecaster, LAN Optimizer, and a few other apps we'll probably never end up using past the review. But because this is Windows, tossing away any apps we want is a relative breeze, so, no sweat off my back.
Benchmarks
The power of this notebook's innards are all they've been professed to be. Intel and NVIDIA bring processing power and graphics processing power the likes of which I've not seen in a notebook before. NVIDIA suggests that the GeForce GTX 1070 (with Max-Q Design) brings approximately 25% higher performance than "the previous most powerful GPU available in units of this size," that being the GTX 1060. I've found that to be fairly accurate – at least on the games and/or other benchmarks I had available to test between the two.
• PCMark 10 Score: 5233
• 3DMark Time Spy: 4688fps, 4549fps, 4688fps
• Bioshock Infinite: 146fps
• Tomb Raider 2013: 193fps
• Witcher 3 55.6fps (199fps low)
• Ghost Recon Wildlands 47.2fps (152fps low)
• Middle Earth: Shadow of War 72fps (136fps low)
• The Evil Within 2: 54.2fps (92fps low)
• ELEX: 69.2fps (122.5fps low)
• Hitman: 92fps
• Metro: Last Light: 60fps
• Cinebench single core: 155
• Cinebench Multi-Core: 645
• SteamVR Performance Test: 10072 (frames tested)
What's been equally impressive is NVIDIA's implementation of WhisperMode. This "mode" can be turned on in NVIDIA's GeForce Experience app. Once on, WhisperMode finds the sweet spot between highest visual quality and minimal power consumption. In that spot is a point at which sound is minimized – largely because of the lack of fan spinning required to keep the notebook cool.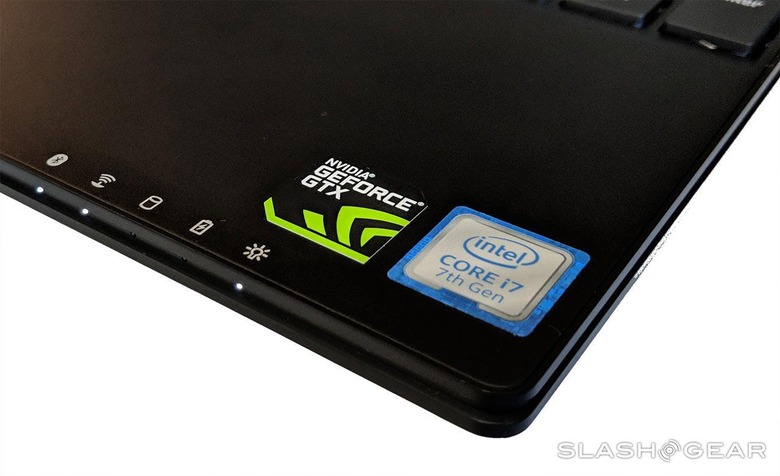 Much like the original primary goal of the GeForce Experience app itself, WhisperMode takes the work out of optimizing the experience. For those that wish to get down and dirty with settings – like adjusting FPS for one's own ideal WhisperMode – that's available as well.
Battery
This laptop has an unusually large battery – 94Wh in all. That's significantly larger than the average battery in a notebook of this size (again, 188 x 74 x 28mm (7.4 x 2.9 x 1.2 inches)). Because of the massive battery and the above-average battery conservation within, this notebook lasted me several 8+ hour work days without issue.
Once I start breaking out the games, it's a slightly different situation. I'm cut in half if all I'm doing is playing games. And if I do nothing but run benchmarks, I can knock the battery out even quicker. But for the average plane ride from Minnesota to California, I'm pretty much set.
Wrap-up
This machine could use some work in the keyboard and touchpad departments – especially if it wants to do double-duty as a gaming notebook and a notebook for schoolwork. If this notebook is going to be yours for work as well as play, I recommend buying a mouse and even possibly a separate keyboard, with a wrist-rest. It's always a good time for wrist resting.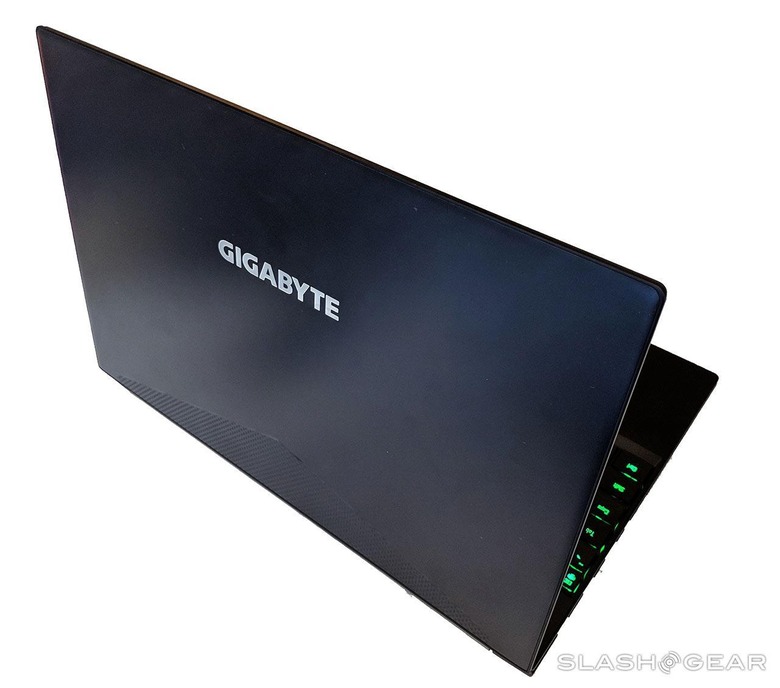 This machine is made primarily for entertainment and high-end gaming without the performance sacrifices of the past. With the Gigabyte Aero 15, the company's created a machine that's very, very good at a few specific activities, and fairly decent at the rest.
The Gigabyte Aero 15 in the iteration we've reviewed here will cost you right around $2,200 USD. The version we have here goes by the name GIGABYTE Aero 15X with 15.6" FHD 1920x1080 AAS Display, 7th Generation Intel Kabylake i7-7700HQ processor, and NVIDIA GeForce GTX 1070 GDDR5 8GB with Max-Q Design, with 16GB DDR4 2400 memory and Mobile Intel HM175 Express Chipset Intel HD Graphics 630.