Giant Tetris played on two sides of Philadelphia skyscraper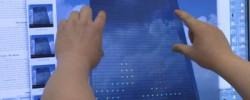 Your screen projector or home entertainment center has nothing on this. Trying to outdo the record he set last year, Drexel University professor Frank Lee has set up a game of Tetris on not one but two opposite sides of Philadelphia's Cira Center.
Architectural video game displays, blending the disciplines of game design and architecture, are nothing new. They are, however, rare and not exactly well publicized. It is, however, quite hard to miss a video game that is being played on a 29-story skyscraper smack in the middle of a city.
Last April, Drexel University made headlines by holding a game of the video game classic Pong on a face of the Cira Center as the opening act of of the Philly Tech Week celebrations. Not only was this the largest game of Pong ever played, it was also deemed by the Guinness World Record as the Largest Architectural Game Display. The stunt used 460 LED lights and covered an area of 59,800 square feet.
Lee, however, had one regret in last year's performance, that it was visible to practically only half of the city, the half facing the game. This year's attempt will try to rectify that and utilize both the north facing side of the building as well as the opposite south side. It will be both a competitive and cooperative game, with each team stationed on opposite sides of the city. This way, the game will be a unique experience not only for the players and the immediate audience but as well for the whole city.
Brandywine Reality Trust, who owns the building, hopes that the event will display the technology and innovation of Drexel's university city neighborhood and put it on the map as one of the most creative places to be. Drexel University's Game Design program, which was co-founded by Lee, was ranked by The Princeton Review as being the top 4 in the undergrad category and number 6 in the graduate category.
SOURCE: Drexel University