Giant Dilbert wall graphics are perfect for your cubicle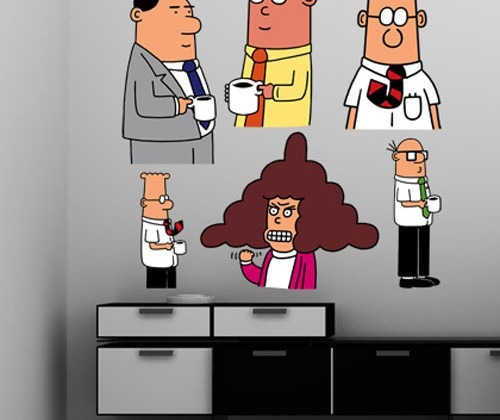 Long ago, in a building far, far away I had a real job. Many of you probably have real jobs right now. You know the type of job I mean, where you have to do what the boss says even if it's stupid and they make you do horrible things like wear pants and only take an hour for lunch. I think most office workers and geeky types can certainly relate to Dilbert and his woes with coworkers and the Pointy-haired boss.
Dilbert is one of my favorite comics and if you are a fan, you will like these new graphics from the Dilbert strip. The graphics are available in multiple sizes, can be stuck to your laptop for decoration, and can be had in life size wall art format too. The graphics are offered in all characters including Dilbert, Catbert, Dogbert, Wally, Pointy-haired Boss, and the rest of the crew.
The graphics range in price from $14.95 for the laptop size graphics to $149.95 for the 7-foot larger than life-size graphics. These would be great in my office if the wife would go for it. Now that I think about it, I guess I do still have a Pointy-haired Boss, but at least I don't have to wear pants. Scott Adams describes the graphics best, "They're way better than coworkers. They won't borrow your extra chair and they never talk."