Giant camera isn't a joke, it's The Dreamy Cafe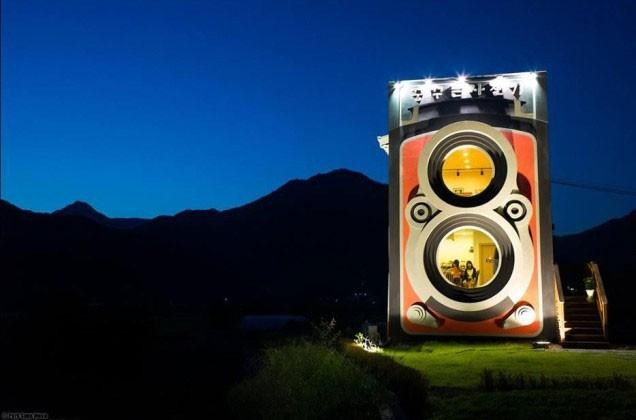 At first glance you might think this giant red and black Rolleiflex camera sitting next to this small cottage is a April Fools prank. It's no prank this giant camera is real. It's not really a camera; rather this is a building that looks like a camera on the outside. Judging by the decor on the inside, the café owners really like cameras and photography.
The red and black café is a dead ringer for a Rolleiflex and at night lights even glow atop the building that make it look like the flash is ready to go off. The official name for this Café is The Dreamy Café. Two stories inside the building give visitors a place to sit, eat, and check out the scenery. Surrounded by mountains, hills, and lots of green, it's certainly a beautiful place to visit and perhaps the only place to eat inside a giant camera.
The building has little touches all around to make it look like a camera from switches and lens rings on the front to what appears to be a shutter button on the side. Inside the building looks very attractive with cool round windows in front and rectangular windows in other areas.
One of the floors visitors can check out lots of old fashioned camera gear, including what appears to be the red and black camera the building is based on. If this looks like a place you need to visit, it's located in South Korea and you can find directions on the café's Facebook page.
SOURCE: Gizmodo