Ghostbusters headphones 2016 a radical Monster x NAS mix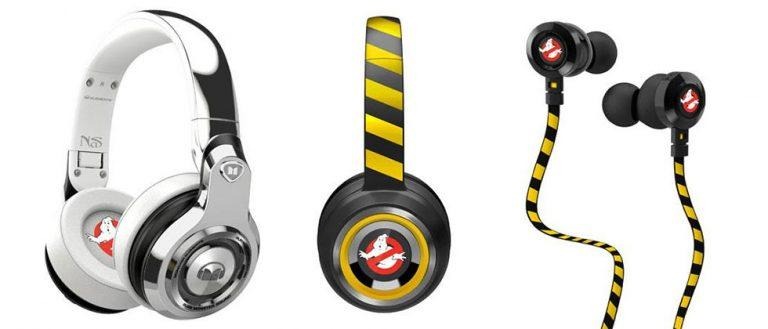 This week three pair of ear-blasting sound-makers are being released to the public by Monster, each emblazoned with the Ghostbusters logo. Each pair of headphones or earbuds carries the original crossed-out ghost along with a unique set of colors and designs. At the top of the list is a pair of "NAS x Ghostbusters Elements Platinum Limited edition wireless over-ear headphones" – they're chrome. They've got the logo on the inside.
The over-ear wireless bluetooth headphones work both wired and wireless. They have "DJ style" swivel ear-cups on both sides as well as collapse-friendly hinges so they can be stashed in their hard case, included in the box. These headphones work with memory foam ear cushions and deliver what they call "Pure Monster sound" – and they've got a mic, too. This pair of headphones costs $500 USD.
Believe it or not, what's shown above is probably the most toned-down of the collection here today. There's a pair of on-ear headphones in this set, working with in-line controls and another limited edition release. These on-ear headphones have the signature black and yellow barber's pole pattern from the Ghostbusters franchise as well as the Ghostbusters logo – on the outside, this time. This pair of headphones will cost a cool $140 USD.
The smallest release in this collection is the Monster Ghostbusters In-Ear Headphones (earbuds), that'll run $60 USD. They have "durable protection at critical stress points" and come with a pack of tip sizes: large, medium, and small. This pair of earbuds also has the classic Ghostbusters logo on each ear, on the outside, and are limited edition too.
These headphones are part of a large collaborative effort between NAS and the Ghostbusters brand. He also has his "HSTRY Clothing" line onboard with shirts and jackets and a pair of sunglasses, too.
Have a peek at the timeline below for additional Ghostbusters bits and pieces, and stay tuned for the launch!