Ghost of Tsushima gets a lengthy new trailer: Release details revealed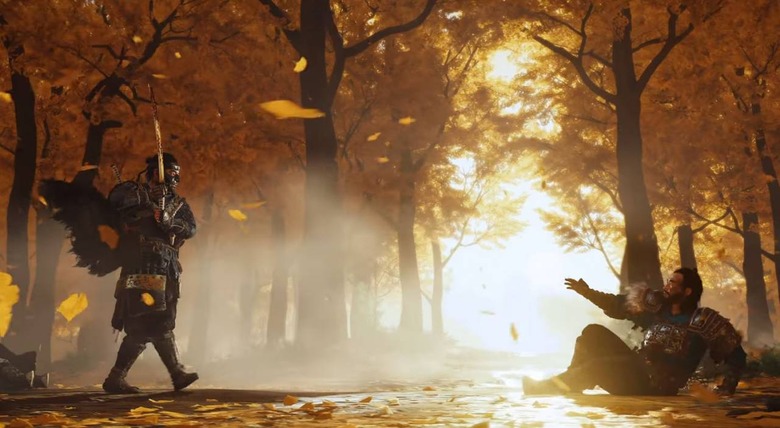 Aside from The Last of Us Part 2, Ghost of Tsushima could very well be the most anticipated upcoming exclusive for the PlayStation 4. There still isn't a whole lot we know about this game; it was revealed back in 2017, but aside from a gameplay reveal at E3 2018, developer Sucker Punch and publisher Sony Interactive Entertainment haven't really given a whole lot away.
Despite getting a new trailer at The Game Awards, that hasn't really changed much. The trailer in question is a lengthy one, clocking in at just about four and a half minutes long. Unfortunately, it doesn't offer much gameplay footage – there seems to be some sprinkled throughout, but for the most part, this is a cinematic trailer meant to set the stage for the game's central conflict.
Set the stage it does, with its flashy visuals and brutally effective protagonist. The game centers around the first Mongol invasion of Japan in the 13th century; more specifically, players will take up the mantle of the last samurai on Tsushima Island – the titular "Ghost" – as they attempt to defend against the invasion.
If nothing else, this trailer certainly suggests that the game is going to be a good looking one, and that's especially true when watching it in 4K. Sony and Sucker Punch gave the game a release window of summer 2020 with this trailer, so while we don't have a firm release date yet, that release window is beginning to get narrowed down a bit.
With a plan to launch in summer 2020, this could wind up being the last major PlayStation 4 exclusive before the new generation begins. Sony plans to release the PlayStation 5 toward the end of 2020, so assuming Ghost of Tsushima lives up to all the hype it's generated, it could certainly help the PlayStation 4 go out with a bang.