German police raid Skyload.net and arrest owner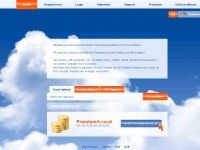 This is not a good time to own a file sharing site with any ties to piracy. German police recently shut down another European file hosting site called Skyload.net. In the raid, the alleged owner of the website was arrested along with a person who is said to have provided hosting services to the site. Apparently, the arrests are tied to an ongoing effort to capture everybody associated with Kino.to and shut down any site that is related to the movie streaming portal.
The owner/operator of Skyload is said to have uploaded more than 10,000 films to the Kino.to paid affiliate program. Police originally made more than 12 arrests in association with the closure of the Kino.to movie streaming portal. The closure of that streaming portal also resulted in the closure of several file hosting services connected to movie streaming.
The alleged owner/operator of Skyload.net, 28-year-old Maik P, was arrested and presumably will face charges. The 25-year-old site hosting provider who was also arrested is called Marcel E. I wonder how closely the site and the host were tied. It seems strange for a hosting provider to be arrested for something a site on their servers did. The main administrator of the Kino.to movie streaming service was sentenced to three years in prison.
[via TorrentFreak]