Gerber's new Steady multitool has a tabletop tripod inside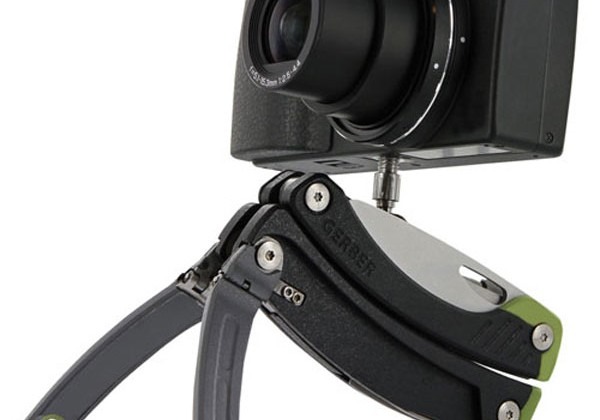 I have seen a bunch of Gerber multitools over the years and I have even owned a few of them. I tend to lose them though. Everyone has a digital camera today and a bunch of people carry those little digital cams with them everywhere and a tripod would come in handy in many instances. The Gerber multitool has a new feature in some of the latest versions.
The new version is called the Steady and it has a pop-up tripod screw that will hold a small digital camera onto the top of the tool. Each side of the tool has little gray legs that flip down and flare out to prop the front of the tool up making the multitool into a little tripod. The Steady will make it much easier to shoot group photos and self-pics wherever you roam.
The tool has a bunch of other implements in it too with a knife and 12 other tools. The Steady will ship in 2012 sometime and will cost $65. This would be a great thing for the hiker or camper that wants to photo themselves roughing it.
[via GearJunkie]