Geralt of Rivia enters the Soulcalibur 6 arena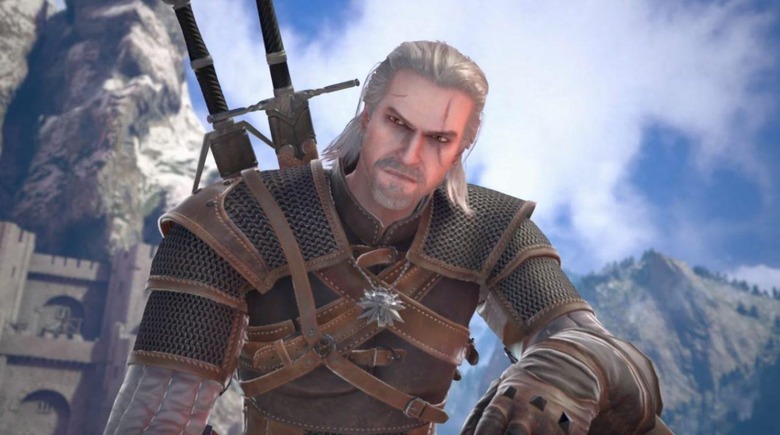 The Soulcalibur series has a long history of including characters from other franchises in its games. Perhaps the examples players will remember most fondly is Link in the GameCube version of Soulcailbur 2, or Darth Vader and Yoda in Soulcalibur 4. Today we're learning the special crossover Bandai Namco is plotting for Soulcalibur 6, and it's going to be a big one.
The company revealed today that Geralt of Rivia will feature as a fighter in Soulcalibur 6, which is due out later this year. Geralt, as many of you know, is the central protagonist in CD Projekt RED's immensely popular Witcher franchise, and given his ability when it comes to dispatching monsters, men, and evil things in general, he'll probably fit right in among Soulcalibur's cast of characters.
In fact, the trailer that Bandai Namco debuted to announce his spot on the roster shows Geralt facing off against Nightmare, so it fits the theme of his past exploits well. We also see Geralt fighting Mitsurugi on a stage that seems to be themed after Kaer Morhen, a run down keep that was once the stronghold of the Witchers.
While Bandai Namco didn't go into too much detail about things like Geralt's moveset, the minute-and-a-half trailer tells us pretty much everything we need to know. Geralt's fighting style seems to be quick and fluid, just like it is in The Witcher 3. We also see him use some of his magic spells from the game, so those who played through The Witcher 3 should feel right at home playing him in Soulcalibur 6.
We don't know when Soulcalibur 6 is going to launch yet, as Bandai Namco has only said that it'll be out this year. When it arrives, it'll be available on Xbox One, PS4, and PC, but before we hit launch day, Bandai Namco still has a lot to reveal. Thus far, the company has only announced nine characters, so expect plenty more as we move through the coming months.