Georgie app gives the blind Android eyes [Hands-on]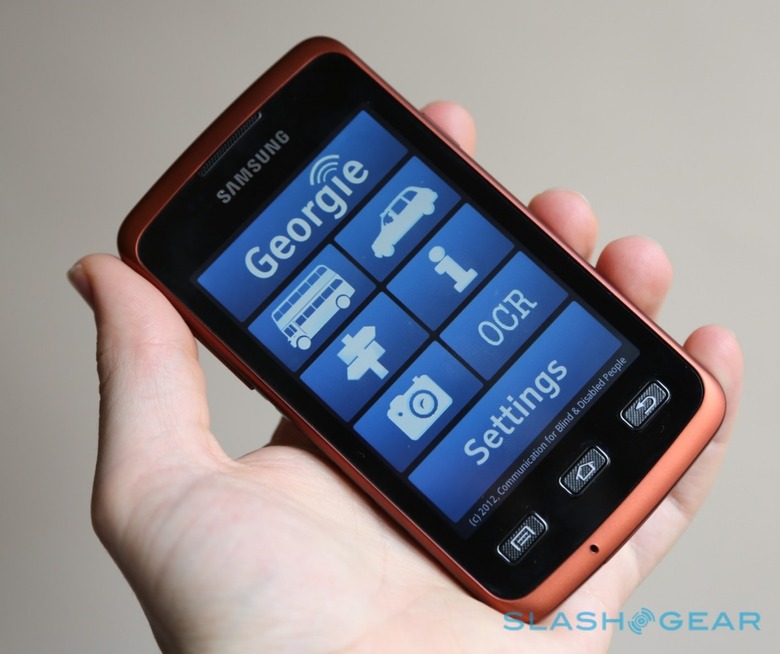 Android eyes? That's the promise from UK company Screenreader, who have created what's said to be the world's first smartphone app designed for, and by, blind and partially-sighted people. Georgie runs on most regular Android phones, but heavily redresses the interface into a combination of chunky icons, consistent navigation and clever haptics to suit the needs of those who have been all but left behind by the rise of touchscreen smartphones.
Whereas many Android skins are a riot of buttons, scrollbars and carousels, Georgie is the polar opposite. At most there are eight buttons on-screen at any one time, with clear iconography and text – you can change the color scheme depending on what hues you might have trouble with – and each uses a system of tap-and-hold: tap, and the button's feature is read out; hold, and after a second's pause there's a beep and the function is selected.
Multiple page menus – the homescreen, for instance, has three panes – are navigated through using the volume keys, and the Android home button itself is remapped to take you back to the Georgie homescreen. The menu button doesn't do anything, while the back key steps back through menus  as you'd expect; we only saw one crash taking us back to the true Android homescreen in our playtime with various devices.
Meanwhile, there are some useful haptics to help guide you through the UI. The phone buzzes periodically anyway, to let you know that the screen is on, and each tap and press is accompanied by a companion vibration. Sweep your finger across the icons and there's a buzz when you move from button to button. It doesn't sound like much, but close your eyes (if you're not blind or partially-sighted already) and it does make figuring out the limits of the interface more straightforward.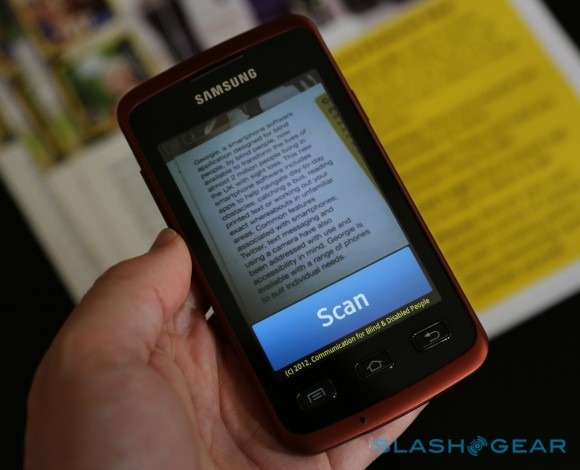 Standard functionality replicates the basic phone functions. There's a dialer, though entering a number is a laborious (if accurate) affair of pressing, holding, waiting, and then moving on to the next digit; when you tap the entered number, it calls it out and then dials it. The SMS app can handle voice dictation – using Android's standard voice recognition system, which means you'll need a data connection for the processing to take place – or allows you to select from a number of preset messages.
There's also a Places app, which tells you which direction you're facing in and allows users to store a record of hazards such as low-hanging branches or potholes – things that a guide-dog might not recognize as a problem. All of the menu options read out their function as you tap them, so that you know what the phone is doing at all times.
However, three add-on packs introduce extra features, depending on how much you want to use your smartphone as, well, a smart device. Travel builds on the Places app, with a "Near Me" feature that flags up nearby points of interest such as bus stops, shops and places to eat, along with weather alerts for your destination, and a particularly useful bus tracker that tells you not only when the next bus is due, but reminds you when to get off.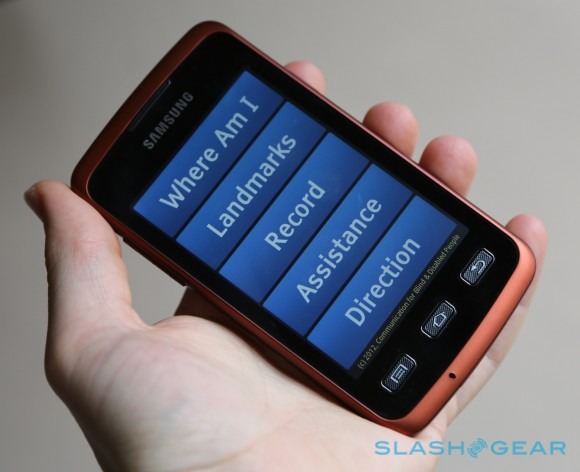 Lifestyle, the second add-on pack, brings with it an audio app for audiobooks, talking newspapers and podcasts, complete with chunk controls and the option to speed up or slowdown playback. It has a "Voice Assistant", similar to Siri, which allows spoken question-and-answer style queries be made, and "Colour", which uses the phone's camera to identify the color of an object or item of clothing.
Finally, Communicate adds a Twitter app for posting and "reading" tweets, as well as an audio-blog feature and audio tagging, allowing you to attach a snippet of audio to images for easier discovery later. It also builds on the camera functionality, using OCR to convert photographed text into speech; again, you'll need a data connection in order for that to work, however, and we struggled to get it to function properly in our brief testing. A similar system uses the camera to identify objects such as tins of food, and if you have NFC tags you can label items and have them identified when you hold the phone nearby.
Georgie hands-on:
[vms 7b02b24c3ecade4c40a0]
That's a lot of functionality, but the strictly consistent interface makes taking advantage of it more straightforward. There's a learning curve to face, but once you get to grips with the tap-and-hold system you build up a decent pace through the menus. Screenreader is run by a husband and wife team who are blind themselves, and so all the testing has been done in-house over the course of 18 months development.
Neat tidbits can be found throughout. Take a photo – there's a 3-2-1 countdown, spoken of course, when you hit the shutter release button – and after it's taken you're prompted to give it a filename in your own voice. Configuration – such as entering names and numbers into the address book – can be done either on the phone itself or through a web-based interface, automatically synchronizing in seconds.
It's that sort of remote support which will be integral for Georgie users. Although the app will be released through the Android Play Market, it will need to be provisioned by UK support partner Sight and Sound Technology; they'll sell both the app alone and a range of smartphones (priced from £150 SIM-free and unlocked) preloaded with it, as well as handle setup configuration and ongoing customer-service, accessed through a shortcut in Georgie itself.
As for price, Georgie is both expensive and a steal. The core app is £149 ($230), while each add-on feature pack is £24.99 ($39); that might sound a lot, but it's worth noting that an existing screen-reader app on the market, which does nothing but take a photo of text and read it out, is currently priced at £499. In the world of niche software, with a target audience in many ways left behind by the mobile tech we've grown used to, that makes Georgie a bargain.