Georgia Aquarium streams live aquarium feed for Shark Week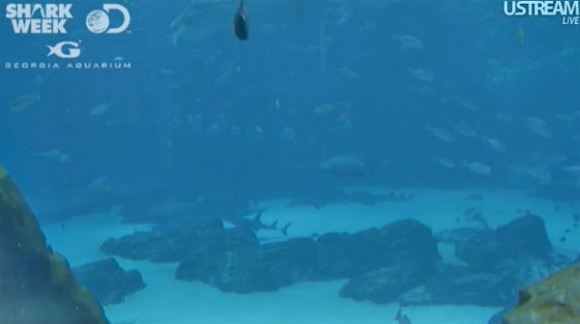 I have always liked aquariums; they are cool and fun to watch if you just want to chill. I am not a fan of the maintenance an aquarium needs. I had an aquarium once, but once it reaches a certain color of green you can't see the fish inside. If you want to check out a giant aquarium with sharks, manta rays, and a bunch of other fish you don't have to take care of, the live Ustream feed from the world's largest shark tank is worth a look.
The feed is up for Shark Week and you can see all the sharks and other fish swimming around. The aquarium is massive. The thing holds 6.3 million gallons of salt water. Apparently, that is enough water to fill 9.5 Olympic size pools. My favorite is seeing the manta rays come gliding past.
The rays in the tank are the only manta rays to ever live in an aquarium. This giant tank is in Atlanta and the live feed will be up until August 7 and is sponsored by the Discovery Channel. I wonder if they will be feeding the sharks at some point so we can watch.
[via Wired]