George Lucas officially opens Sandcrawler building in Singapore

The first time we heard that George Lucas was working on a new company HQ for Singapore was back in 2011. The HQ for Singapore isn't a normal looking building; rather it looks like an iconic vehicle from the Star Wars franchise called the Sandcrawler. The Sandcrawler is the mobile fortress home of the Jawas on Tatooine from the Star Wars IV film.
The building was designed to look like that Sandcrawler and while it was expected to open a few years ago originally, that official opening has finally happened. George Lucas was on hand at the grand opening of the 242,190 square-foot building.
The new Sandcrawler building is the headquarters for Lucasfilm in Singapore and will house computer animation facilities. The building also has an Industrial Light & Magic wing that is already in full operation. According to Lucasfilm president Kathleen Kennedy, that wing is already working on major films including Transformers 4 and Avengers 2.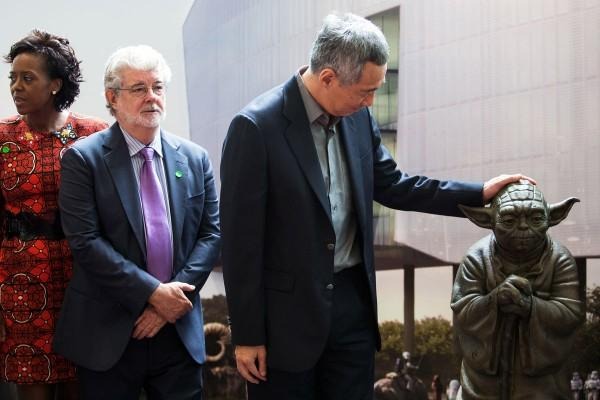 Above you'll see a photo via Bloomberg of the Yoda fountain that lies within, George Lucas himself looking on.
Lucasfilm currently has about 360 workers in Singapore. The company plans to add to that total this year. Lucasfilm has worked on other high profile projects in Singapore including Pacific Rim, Harry Potter and the Half-Blood Prince, and Iron Man franchise films.
SOURCE: Hollywood Reporter