Genius Traveler 350 trackball mouse for those on the go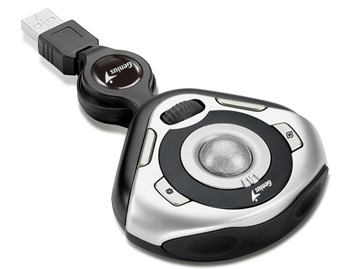 I don't know about the rest of you normal mouse using folk, but if it weren't for my Logitech TrackMan Wheel mouse featuring a shiny red trackball, there is no way I could get my job done as quick as I do. I mean, do you know how hard it is to get my mouse from one corner of my screen to the other in a timely manner? Just kidding, but I seriously couldn't survive without it, however whenever I have to travel with my laptop, I have two choices, deal with the touch pad, or try and cram my TrackMan in somewhere and hope I don't lose the trackball.
Well, no more, now there is help for those of us trackball addicts that travel. The people over at Genius have created the Traveler 350 which features a retractable USB cable, a right and left mouse button as well as a scroll wheel.
On top of all that, they through in some dedicated buttons for those running Vista, they are a Flip 3D button, and an MCE button. Since the ball is in the center (not my preference, I like to use my thumb) it can be used for either left or right handed individuals. It's for sale now, and they only price I could find is in Euros which converted to $29.20 USD.
Tiny trackball mouse gives travelers a new choice for mousing [via coolest-gadgets]