Genius offers new customizable Imperator Pro keyboard for gamers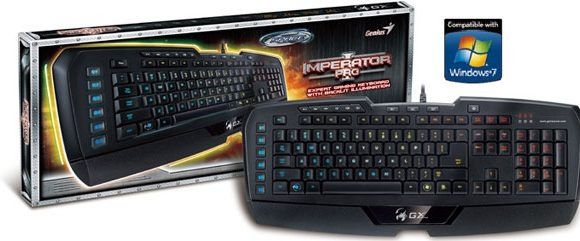 If you're a gamer that enjoys MMO or role-playing games, Genius has a new keyboard aimed specifically at you. The new keyboard is called the Imperator Pro and is part of the GX family of gaming peripherals. The keyboard is backlit with a full-color 16 million RGB backlight allowing you to choose your color. It also has four brightness levels, including 33%, 66%, 100% and off.
Other features of the keyboard include USB ports for connecting peripherals and six programmable macro keys. The macro keys have different profiles allowing up to 18 macros to be assigned. The keyboard has onboard memory so you can store macros on the keyboard rather than on a computer. The different game profiles can be switched on the fly.
The dual USB ports on the keyboard have 1000 Hz report rate to support fast peripherals such as mice. For times between gaming, the keyboard also has six media access keys for controlling audio and video. It also has a palm rest for more comfort. Pricing is unknown at this point.