Geniesys OptiEyes Bluetooth 1.3MP covert video camera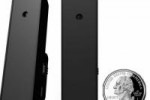 If you're suspicious about what might be happening less than 100m away from you, then Geniesys Technologies' OptiEyes Bluetooth 1.3-megapixel video camera may be just the ticket.  Measuring just 69 x 21 x 13.25 mm and weighing in at 15g, the OptiEyes is capable of streaming QVGA video or sending VGA quality images to a nearby cellphone or computer via a Bluetooth connection.
The internal Li-Polymer battery is apparently good for up to 1.5hrs of continuous video capture, or alternatively around 80hrs of standby.  It's capable of showing a low-resolution preview remotely before capturing a full-resolution image, and supports the Bluetooth 2.0 serial port profile (SPP) for connection with a wide number of Windows, Windows Mobile and embedded platforms.
Geniesys claim to have tested the OptiEyes through walls and closed doors from 50m away, with no loss of video stream.  If you're looking to get further away than that, it's probably not the product for you.  The Geniesys Techologies OptiEyes is available now, priced at $149.
[via I4U]