Genesis Mint Concept Is A Slick Urban EV Ride Of The Future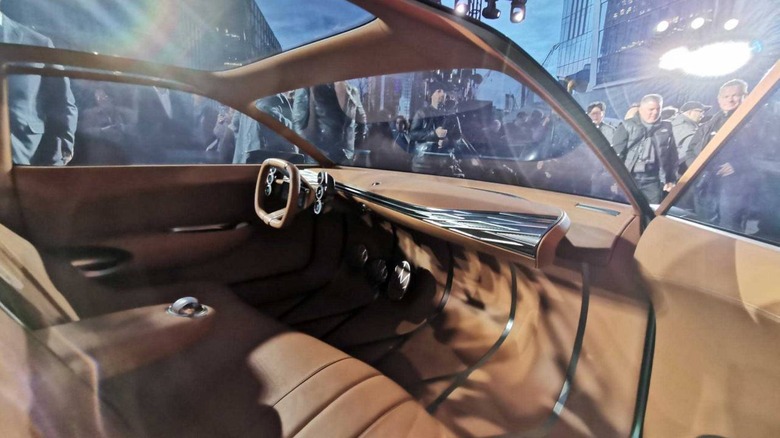 Genesis has unveiled a concept car at the New York Auto Show that is called the Mint Concept that it says introduces a new "typology" for the premium city car. The car has a simple and attractive exterior design and a "decluttered" interior that is minimalist and premium at the same time. The Mint Concept is an electric luxury city car that is designed to be a lightweight runabout that has a new shape for a city car that Genesis says is tailored to the modern lifestyle.
The concept also promises to be highly maneuverable and fun to drive. The overall design of the vehicle is thanks to a collaboration from Genesis design studios from around the world led by Genesis Global Advanced Design in Germany, Genesis Design Team in the U.S., and the Namyang Design Center in South Korea.
The Mint Concept is a two-door, two passenger car with a smaller footprint to make maneuvering in congested city areas easier to accomplish. It's designed with very short front and rear overhangs. The design features quad lamps in front and back to stretch the corners of the vehicle, and there are top light elements that form wraparound light bands.
The grille design is a sculptural element that is mostly closed with a slight opening to help cool the battery pack. The lower half of the vehicle has what Genesis calls a G-Matrix pattern that is meant for more than style; it also helps with cooling and airflow circulation for the battery floor.
The Mint Concept has no trunk, offering instead a "generous parcel shelf" meant for occasional use. Access to the parcel shelf is via scissor-style side openings with a low load-in point for easy storage and retrieval of items. Genesis says that the Mint Concept has high-density, battery-electric powertrain that is good for an estimated 200 miles per charge and the concept can recharge using 350-KW fast chargers.