Genesis G80 And G90 Get Amazon Alexa Integration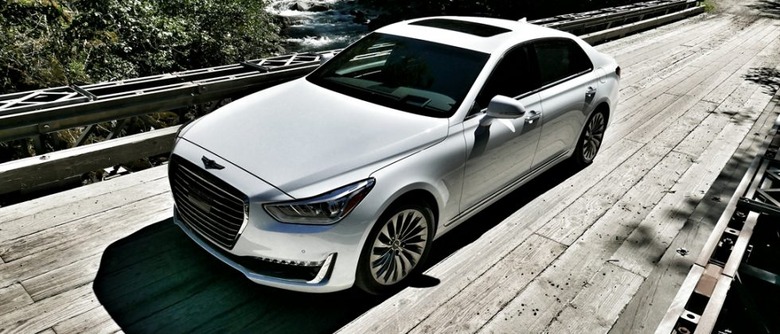 Genesis has announced Amazon Alexa and Echo integration with Genesis Connected Services, bringing voice command control to the Genesis G80 and G90 models. Car owners can issue certain commands to their vehicle from within their home or wherever they happen to be, doing things like telling Alexa to start the car, lock or unlock it, flash the lights, honk the horn, and more. You'll just need an Alexa-enabled device like an Amazon Echo.
According to Genesis, it is the first automaker to integrate its connected services with Amazon Alexa. By doing so, users with either of the aforementioned models and Genesis Connected Services can use Alexa to perform actions on their behalf. If it's cold outside, you can tell Alexa to start your car for you from within the comfort of your warm home. You can flash the lights, set the car's temperature, start and stop it, lock and unlock it, and honk the horn.
2017 Genesis G90 First Drive: Rattling the cage of established luxury players
Commands are issued with the following phrase: "Alexa, tell Genesis to start/stop/lock/unlock/honk/flash..." Before the command can be issued, though, the Genesis skill has to be enabled within the Alexa app; it will then prompt the command-giver for their Genesis Connected Services Personal Identification PIN before following through with a command.
Speaking about this, Amazon Alexa's VP Steve Rabuchin said:
We're excited to bring the convenience of voice and Alexa to the Genesis G80 and G90. With this innovative Alexa implementation, customers can now start their car, and get the heat going all just by asking Alexa from the comfort of their own home. We can't wait for our customers to try it out.
G90 owners in particular are being offered an Amazon Gift Card to contribute toward the purchase of an Amazon Echo.