GeForce Now exits beta, launches for everyone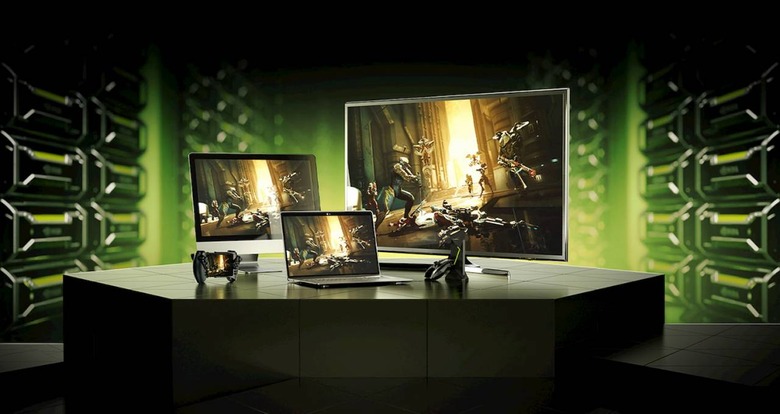 The game streaming wars are beginning to heat up. Following last year's launch of Google Stadia, NVIDIA announced today that GeForce Now has exited beta, meaning that the registration wait list has been lifted and anyone can sign up for the service. NVIDIA is hitting the ground running with this, offering two different service tiers for gamers looking to stream their PC libraries.
The first tier is a free one, and as you might imagine, it doesn't offer a whole lot. By using that tier, you'll get standard access to the GeForce Now servers, which seems to mean that in times of heavy load, you may have to wait before you can begin playing. You're also limited to one-hour streaming sessions, though there's no limit to the number of sessions you can play.
Upgrading to GeForce Now's Founders tier might be the better call for those looking to do some serious streaming. $4.99 per month gets you priority access to the servers, session lengths that can stretch on for as long as six hours, and RTX ray tracing capabilities (a feature that's being added today). NVIDIA is also offering a 90-day introductory period that allows you to test the service out without paying anything, which is fairly generous in the world of monthly subscriptions.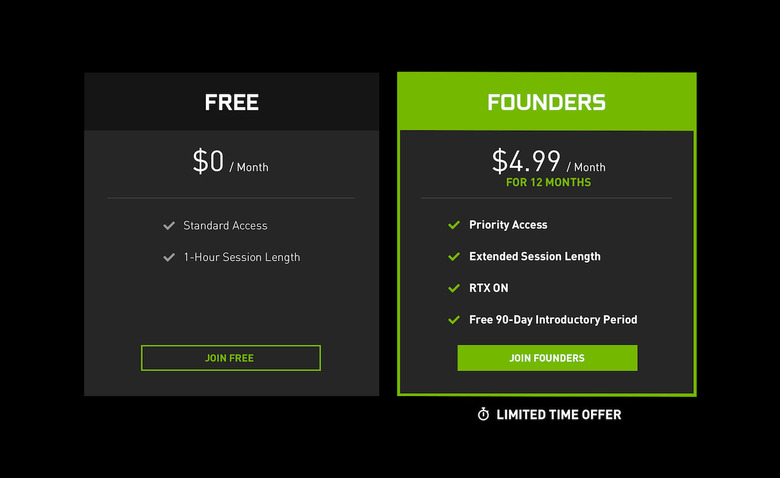 NVIDIA says that Founders memberships will run $4.99 per month for all of 2020, but doesn't say what the monthly cost will jump to once this promotional period is over. At the moment, GeForce Now works with PC, Mac, SHIELD, or Android devices.
One key difference between GeForce Now and Google Stadia is the fact that GeForce Now works with existing distribution platforms like Steam, Epic Games, and Battle.net. Not all games on those services are supported by GeForce Now, but even without such across-the-board support, the fact remains that you don't have to buy your games directly from NVIDIA in order for them to have compatibility with GeForce Now.
As with most streaming services, you'll need to have a solid internet connection to use GeForce Now. In order to stream in 720p at 60fps, you'll need at least a 15Mbps connection; streaming at 1080p60, on the other hand, requires a 25Mbps connection. GeForce Now also requires either a 5Ghz router or a hardwired Ethernet connection to use on platforms like Mac, PC, and SHIELD. You can search for supported games over on NVIDIA's website, or check system requirements and sign up for the service on the GeForce Now page, though just be warned that NVIDIA's website seems to be struggling at the time of this writing.