Gefen take High-Def PVR back to straightforward basics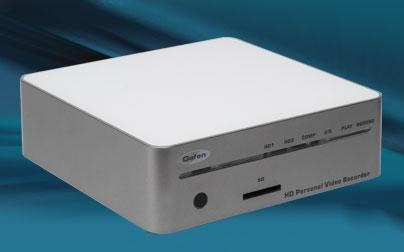 If you've ever needed to extend, distribute or generally modify your audio/visual content then you're likely to have come across Gefen; the company has a strong back-catalogue of media extenders, KVM products and high-def converters.  Now they've bundled up all that know-how into a home-grown PVR, that looks ostensibly like a Mac mini clone but in actual fact is a dedicated media recorder.

Ready to work with 1080i out of the box, the simply titled HD-PVR can record content directly from just about any video or audio source via composite, S-Video, component or HDMI, storing it in MPEG-4 format on either removable SD cards or the internal 80GB hard-drive.  Each input is mirrored with an equivalent output, so you shouldn't have any problem hooking it up to a suitable display, and Gefen promises supreme ease of use with a straightforward OSD and simple IR remote.
The HD-PVR is available now priced at $999, while Gefen also produce a standard-definition version (the SD-PVR) which lacks the HDMI input/output and hard-drive but can record to USB attached storage, priced at $699.
Gefen [via Electronic House]