Geeksphone Peak+ Firefox OS 1.1 handset available for pre-order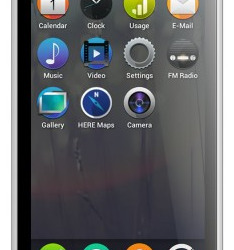 Back in April, the Geeksphone Firefox smartphone sold 1000 units in a day, and has since seen fairly regular demands for the smartphone. The Geeksphone Peak+ runs Firefox OS version 1.1, and is now available for pre-order from the Geeksphone website for €149, and will begin shipping out to those who nab their place in this batch in September.
The unique aspect of the Geeksphone Peak+ is that rather than targeting the developers and more technically-inclined that it has with its other Firefox OS handsets, this smartphone is being hailed as ready for the average consumer to use. As the name suggests, this is an improvement on the Peak handset, which has been available for awhile now.
The smartphone features a qHD resolution IPS display with multi-touch support. Under the hood, users will find a Qualcomm Snapdragon S4 8225 1.2GHz dual-core processor, as well as 1GB of RAM, making this a solidly mid-range device. The cameras are standard 8-megapixel rear and 2-megapixel front offerings, and internal storage is limited at 4GB.
There's a microSD card slot for expansion, and connectivity is comprised of Bluetooth 2.1 EDR, GPS, and Wifi N, as well as an FM radio receiver. There's the typical light and proximity sensors, as well as a g-sensor and compass. The wired connection slot is microUSB, and the battery is 1800mAh, which is about typical for the hardware that is being used, though there's no mention of estimted battery life.
There's support for 3G data networks, with UMTS 850/1900/2100 and GSM 850/900/1800/1900 EDGE both being offered. You can check out some of the other recent Geeksphone news – and Firefox OS news in general – in our timeline below.
VIA: GSM Arena
SOURCE: Geeksphone