Geek Inside Tee adds a little fun to boring maternity clothes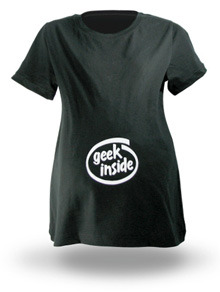 For all the pregnant ladies or those considering it sometime in the future this tee will keep you cracking up all through the pregnancy. Well ok, maybe not the whole way through but at least a couple of weeks.
Even if you're not really a geek, it could even be a small bash on the daddy. Although the tee does have that slight moo moo feel, one of those belts slipped on giving you that empire waist might give it a little extra shape.
To get your own it will only cost you $17.99. Although no guarantee that it won't cost you more money later when you have to put your child through therapy for being labeled even before leaving the womb.
Geek Inside Maternity T-Shirt [via coolest gadgets]