GEAR4 Renew SleepClock for iOS devices hitting stores this March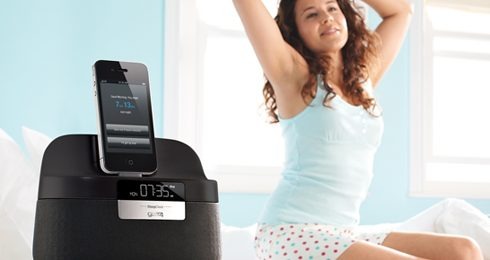 GEAR4 is back with another awesome iOS accessory and has just announced their Renew SleepClock will be hitting Apple's retail stores in the US starting in March for just $199. Their alarm clock offers a few unique and special features that make that price seem not so high. They've added two sensors for monitoring breathing and movement, allowing the free iOS app to log sleep cycles.
The Renew SleepClock uses a non-contact sensor (as in no watches, or wristbands) to measure your breathing rates and movements. It knows when users are asleep and will measure your patterns and wake you up and the perfect moment. The SleepClock will pick the lightest moment in the users sleep cycle to alarm — making for a more relaxed wake period that will leave you alert and refreshed in the morning. No more needing 3 cups of coffee to start your day.
Their app will monitor patterns and you can check to see how well you are/aren't sleeping at night. You can check these stats by the day or week and even compare against other SleekClock users. GEAR4 offers fading playlists to put you to sleep, and multiple settings for the alarm chime come morning. With sounds from the radio, iPod playlists, or even gentle and calming sounds are all available.
[via GEAR4]