GE Kitchen Hub updated with built-in microwave and third camera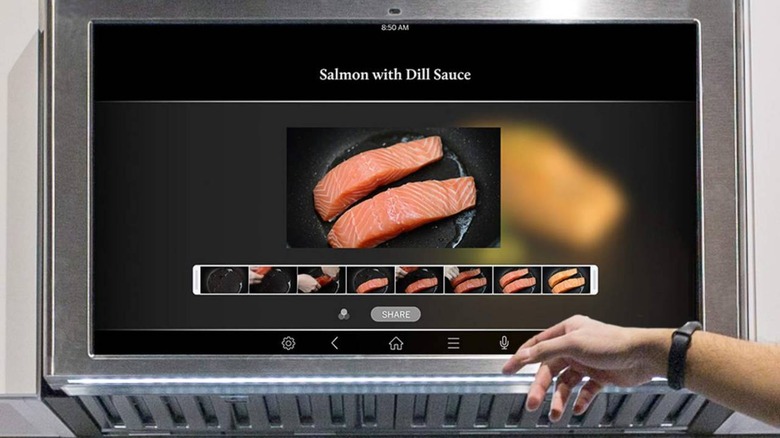 GE Appliances has announced the next-generation version of its Kitchen Hub, a high-tech smart kitchen and ventilation system that now features a built-in microwave and a third camera. The technology is paired with an AI-powered computer vision 'cooking' tech, according to GE, which simplifies cooking by helping home chefs find the right recipes and more.
The latest version of the GE Kitchen Hub features a 27-inch touch screen display and a 1.9 cubic foot microwave built into the system. As well, the Kitchen Hub has a ventilation system that can fit in the space among a range. A third camera has been added to the next-gen system, as well; it is located within the oven and utilizes the company's computer vision cooking tech.
The system likewise offers SideChef, a feature that offers home chefs access to guided cooking and 'precision' cooking capabilities alongside thousands of recipes. As well, Kitchen Hub brings Google Assistant support, live chat with multiple camera angles, schedule and calendar features for managing the home's meal schedule, access to other smart home devices like smart thermostats and lighting system, and interoperability with other GE and Haier products.
In addition to the oven camera, the GE Kitchen Hub has a camera and light over the cooktop surface so that users can easily share videos and images of their latest meals with others. The third camera is forward-facing with the display so that users can video chat with other people while cooking.
The next-gen model utilizes the SmartHQ platform. GE Appliances will be showing off this technology during CES 2020 next week, but it doesn't plan to launch the latest Kitchen Hub until later this year. The model's price hasn't been revealed at this time.