This morning the United States Supreme Court announced that same-sex marriage would be legalized across the USA. According to the official decision document, "The Court, in this decision, holds same-sex couples may exercise the fundamental right to marry in all States." In response, just about every tech company and brand associate have taken the opportunity to celebrate the decision with rainbow flags, jumps for joy, and everything in-between. Companies like Google, Motorola, and Twitter as well as high-profile leaders in tech like Apple's Tim Cook are amongst those joining in on the revels.
To see the original document released by the supreme court, head over to Supreme Court (dot) gov where a PDF will await you. Above you'll see the key line in this document. This document makes it illegal for government institutions to deny marriages between same-sex partners.
YouTube is celebrating with rainbow-colored social networking icons and one whole lot of pointers towards the video you're about to see. This video is part of a #ProudToLove collection of videos and was made for LGBT Pride Month.
Twitter is celebrating with their own hashtag. Tweeting #LoveWins in any Tweet will display a tiny rainbow heart emoji.

Apple's Tim Cook recited the Apple classic "the people who are crazy enough to think they can change the world are the ones who do."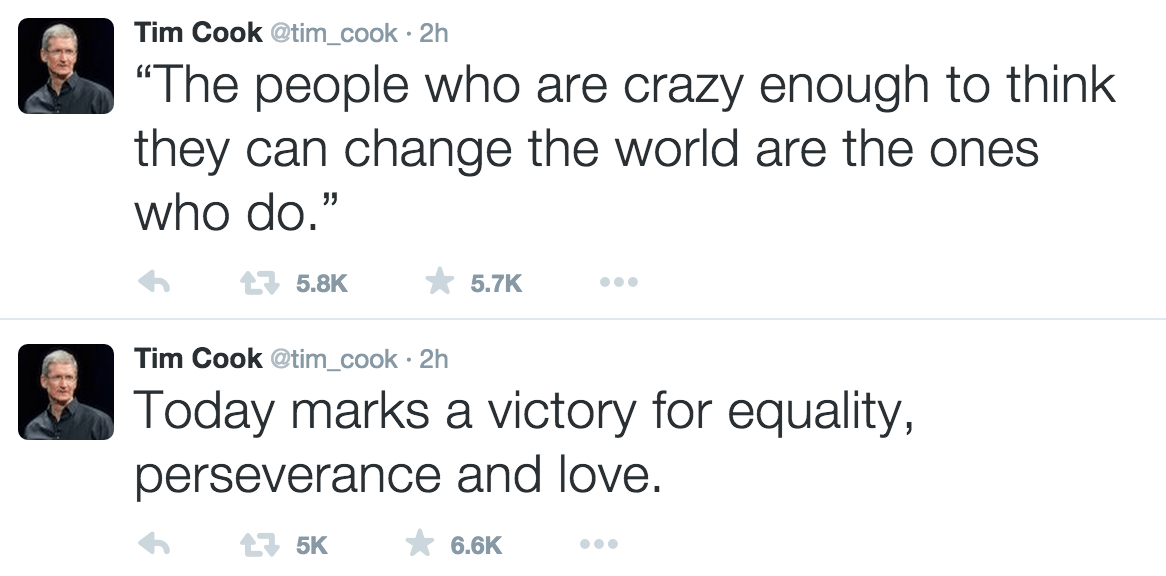 Google's Android posted "#andproud" with the following moving image of an Android waving a Pride flag.
BoingBoing is celebrating by releasing a new map showing where gay marriage is allowed inside the United States.
A new map of the United States showing where same-sex marriage is legal http://t.co/rmd8S8QcbB pic.twitter.com/eHY0evnnwn

— Boing Boing (@BoingBoing) June 26, 2015
Game of Thrones official Twitter account posted this image of Renly Baratheon – in a Funko POP! toy form – showing their support.
Be proud. #equality #SCOTUSMarriage pic.twitter.com/W0wC7rUjDT

— Game Of Thrones (@GameOfThrones) June 26, 2015
The Target design crew created their own fancy gif for the occasion, true to form.
Here's to having, holding and marrying who you love. #takepride #SCOTUSMarriage pic.twitter.com/8NLGee0Rl0

— Target (@Target) June 26, 2015
T-Mobile's part in Pride parades are shown in their first announcement of celebration earlier today.
Proudly raise your flag high today, because #LoveWins pic.twitter.com/COKo4cK48d

— T-Mobile (@TMobile) June 26, 2015
While Pandora does have a Pride Month playlist available, today's Tweet came in the form of a simple thumbs-up.
The Beatles said it best: All you need is love. #LoveWins pic.twitter.com/UchabL9pg5

— Pandora (@pandora_radio) June 26, 2015
American Airlines is one of several travel companies getting in on the celebration – quite visually present for all flights throughout the day.
We're on board. Diversity strengthens us all & today we celebrate #MarriageEquality & the landmark #SCOTUS decision. pic.twitter.com/gqej2xMzIU

— American Airlines (@AmericanAir) June 26, 2015
Motorola's celebratory posting has a rather unique illustration in store. Truly a celebration for the eyes as well!
Today #LoveWins and we couldn't be happier – Now everyone can #ChooseLove pic.twitter.com/5ICl58E8xc

— Motorola Mobility (@Motorola) June 26, 2015
Gaming company Bethesda joins in with a posting of their old-school rainbow logo.
Old logo – circa 1986 #LovesWins pic.twitter.com/6ROo1PH2bb

— Bethesda Softworks (@Bethblog) June 26, 2015
Microsoft CEO Satya Nadella spoke up about Microsoft's involvement in Pride Month yesterday and lends his support for the day today.
A historic moment and step forward for equality in America. #LoveWins

— Satya Nadella (@satyanadella) June 26, 2015
If you know of any other celebrations like these that you'd like to share, let us know! We'll be expanding the list all day long!